FISHING IN ARCTIC NORWAY
Salmon Fishing on Northerly Rivers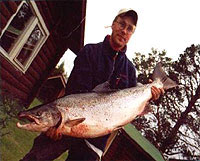 New for 2003, North Wales Fly Fishing School is running 4, one-week exploratory trips to this unbelievable area. These will take place in June and early July 2003.
Fenton Robinson is the first specialised fishing travel company to run expeditions to this amazing area. The area we fish is called Porsanger, and is the most northerly salmon fishery in the world. The fish run in disease free limestone rivers, so clear you can see the salmon holding in the shallower pools. Huge Atlantic salmon run these rivers. Rod busting fish of 70lbs have been caught, and the average is over 12lbs. The numbers of fish are large, but not on the same scale as the next door Kola Peninsular. What the sporting fisherman has here, is the chance of catching a fish of a lifetime, without spending a fortune in the process.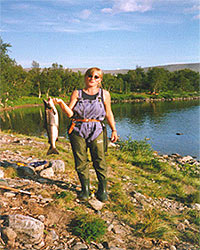 Access to the area is simple, with flights to Lakselv, near the North Cape, the most northerly point in Europe, at 71°n. These are operated in the summer by Finnair, and run twice daily. From Lakselv, a quick 35-minute drive, brings you to Borselv, where we are based. From here the 3 rivers are easily accessed, by car, then on foot or quad bike. When we go to the more inaccessible reaches, we will camp overnight in complete luxury, in tepees.
Accommodation is in comfortable single or twin rooms, and the food both in camp and on the riverbank is quite sensational. A typical riverbank dinner might be Carpaccio of Reindeer with a wild berry sauce, followed by a roulade of wild sea char and cod with herb potatoes!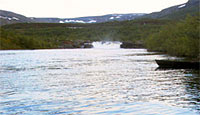 The idea of these trips is adventure with comfort. The best guides in Northern Norway, superb fishing on 3 different rivers, 24 hour daylight, and incredible scenery combine to make this a wonderful opportunity to fisherman bored of modern day inaction on most British rivers.
The rivers and lakes of the area hold some of the hugest Brown Trout we have ever seen! Any client who wishes to try their hand at catching a 12 lb wild Norwegian brownie, has only to say so and we will organise it.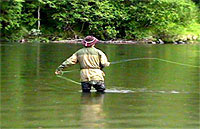 We are also organising several long weekend trips to this region. Please contact us for further information on these popular breaks.
Each exploratory trip is limited to 8 clients, so only 32 places are available. We therefore highly recommend booking early!
In Porsanger you'll find 3 excellent salmon rivers - Lakselva, Børselva and Stabburselva, all within 55 km. All of the rivers offer salmon, sea trout and sea char. The salmon fishing season is from the 15th of June to the 31st of August. In addition you can fish sea trout and sea char in the lower parts of the rivers to the 14th of September.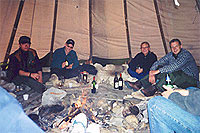 Lakselva
Lakselva enters the Porsangerfjord in the bottom of the fjord. This is the largest salmon river in Porsanger, but also the most quiet. The fishing stretch is 40 km and further reaches can be accessed using boats. With roads on both sides of the river, general access is very easy. This is a typical big salmon river; over half of the total catch at 4,708 kg last year was salmon over 7 kg. In Lakselv river, salmon over 32 kg have been caught, sea-trout at 10 kg and sea-char at 2.6 kg.
Børselva
This river, that enters the Porsangerfjord from the east, is one of the most picturesque salmon rivers in Norway. Extremely clear-greenish water, a white riverbed (from dolomite rock) and the wilderness mountain settings make this river more than special. The river consists of two parts. The lower parts are easily accessible from the main road, but this stretch is often crowded and licenses might be difficult to obtain. The upper stretch holds salmon over long distances in a road-less area, where the salmon gather in some special pools, often with kilometres of rapids in between. Long hikes are necessary to reach these pools, which can also hold the sea char. The biggest salmon caught here is 27 kg, sea-trout 6 kg and sea-char 2 kg. In 2000 the total catch of salmon in Børselva was 3,258 kg.
Stabburselva
Stabburselva runs through The Stabbursdalen National Park. The park contains many of Finnmark's typical landscape forms: barren mountains, open plateaux and narrow ravines with scattered mountain birch and stretches of pine forest. Waterfalls and rapids, interspersed with deep pools of still water mark the Stabbursriver as it runs through the National Park. At Luobbal (Lompola) it sweeps gently into wide bays.
This river is especially interesting to fly fishers because the river has runs of salmon, sea trout, and Arctic char. The large salmon enter the river from mid June until mid July, while grilse and char are present from mid-July to August. You can also fish char and sea trout in the first half of September in the river mouth. The stretches of the river above those having anadromous fish offer some of the best brown trout fishing in Norway. The many shallow runs and pools offer excellent opportunities for fly-fishing with a one-handed rod.
The upper part of the river is road-less, so expect hikes of one-two hours to get to the best pools. The salmon record in Stabburselva is 29 kg, sea trout 9 kg and sea char 2 kg. In 2000 the total catch of salmon was 1,949 kg. Clients can be quad biked into these inaccessible areas. It is in these areas that we like to set up fly camps for overnight stays. Sleeping in Lavvus (Lapp Tepees) on beds of reindeer skins is an unforgettable experience!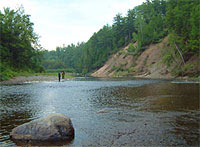 Some of the fishing is from boats, however most pools can be accessed by wading. Breathable waders are best but bring plenty of under wader insulation - the water in June is chilly!
All the North Cape rivers are disease free, so we disinfect our gear before fishing - this will be done in the lodge prior to hitting the rivers.
We advise the use of double handed rods, but it's also advisable to bring a single-handed rod for tackling sea trout and huge Brownies, also for some of the trickier salmon pools. Flies are not readily available in Lakselv, so bring a good selection of your usual salmon wet flies, as well as some trout flies (nymphs and dry).
Location
We have three locations River Lakselva at the Posangerfjord, River Borselva, and River Stabburselva in the Fin mark region.
Travel Arrangements and Accommodation
UK – Lakselv, may involve a change in Norway, accommodation is in comfortable single or twin rooms. And the food both in camp and on the riverbank is quite sensational, the basis of these trips are adventure with comfort.
Cost of Holiday and Duration
7 days, wine and beer provided at meal times, other drinks are your own responsibility, down side of Norway is high cost of Alcohol, so take advantage of your duty free allowance and stock up.
Cost per person is £2350.00 per person.