Alaska Discounted Fishing's & Lodges, Kenai & Kasilof Rivers 2015
This is probably the best value for money package in the UK today, and for the fisher who has a tight budget but without losing the quality in accommodation and comforts. We are running a number of party groups in 2015 of 5-6 persons if you want to either came along or go on your own we don't mind we can shave a % of the cost if you goas a group. Our lodges are located in the Kenai Peninsula region with a vast area of water, guides and lodging and all meals are included in the cost.
Fishing licences only cost a $40 per 7days, and retention tax per fish i.e. King Salmon

is $15.00 per fish. We regularly catch King Salmon from 25 - 60lbs reds from 5-12lbs,

- 12lbs, silvers from 7 –20lbs, and if you fancy a halibut trip expect fish from


25-300lbs. The fishing day due to long daylight hours is sunrise 4am sunset 12pm. below is the world record King from this region at (97lb.25).
Target Species
King Salmon, Coho Salmon Chum Salmon, Pink Salmon, Arctic Char Dolly Varden, Rainbow Trout, Brown Trout, Grayling, and Steelhead.
Best Time of Year
May - October.
Tackle Required
General Salmon Spinning gear and Fly 10' 7-10 weight rods with a mix of lines, or multi-tips, and some serious surface lures are a must big colourful feather lures for fish, your guide will assist here on size\and presentation Bait casting rods we suggest 9-10ft with 25lb Test for Chinook/Kings and the others 15lb test
Country
Alaska - USA
Map of Country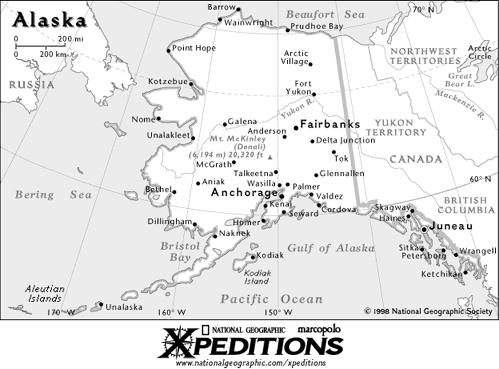 Location
USA near Anchorage Alaska
Travel Arrangements And Accommodation.
You will fly from the UK to Anchorage Airport and hire a vehicle the drive is 2.5 hours to Soldotna. If you follow directions you will receive on confirmation of booking you cannot get lost. The sight seeing along the way is fantastic. And it will be
along time before you forget the Chugach National Forest, mountains Glaciers and Cook Inlet, and you will see Moose eagles, bears and Dall sheep along the highway as a common site. Varied met at the airport by our representative accommodation, is in cabins comfortable and well appointed includes Dinner Bed and Breakfast, packed lunch guides, boats, and a fly out day on a seaplane.
Generally International flights from £800 - £1000 return we can help book your flight.
Cost of Holiday and Duration (based on 4 in a party)
We call these different packages by Moose names.
Little M: 7 nights lodging 3 days guided fishing trip river, Trout and Salmon and 2 Kenai or Kasilof river fishing trip Salmon, 1 fly out day trip Trout or Salmon. $2100 per person US or sterling £1360.00
Big M: 7 nights lodging, 4 days guided Alaska fishing, Salmon Trout 1 day Fly out or 3 day Kenai, Kasilof river trips. $2250 per person US or sterling £1445.00
Fun M: 7 nights lodging, 5 days guided Alaska fishing trip, Salmon Trout 1 fly out trip, Salmon or Trout 4 Kenai, Kasilof river days, $2500 US per person or £1610.00
Prices are based upon parties of 4 discounts available for party of 5-6.
There are no discounts offered in July!
Packages unless stated are self catering in log cabins double sharing. Eating Package add $500 or £320.00 (all meals for the trip in lodge restaurant.
Things you need to know ( additional options).
Guided fly fishing with an instructor/guide.
Fly out on Alaskan float planes for fishing and bird watching.
Drift Boat fishing on Kenai or Kasilof Rivers.
Deep Creek Combination trips for Halibut and Salmon.
Harding Ice-field flight sight seeing.
Kenai Fjords Whale and Glacier Trips.​
Please feel free to call me to discuss a tailored package our prices are superb and offer the best affordable fishing options in the UK today for Alaskan Salmon fishing.