Amazon Trip 3 - Rio Negro Lodge
Peacock Bass at the Rio Negro Lodge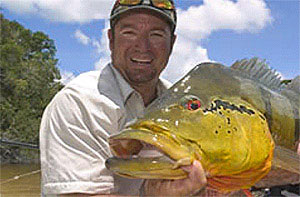 Opened in 1998, the Rio Negro lodge is located 50 river miles upstream from Barcelos in the heart of Brazils premier peacock Bass fishery. The Rio Negro is more than 12 miles wide in some areas and encompasses hundreds of Tributaries and lagoons teeming with world-class Peacock Bass.
Remote as it is there's no 'Roughing it' at the Lodge Quite the opposite. The current IGFA world record Bass was caught by one of our clients 20 minutes from the lodge!
So if you want luxury and quality fishing this is the place.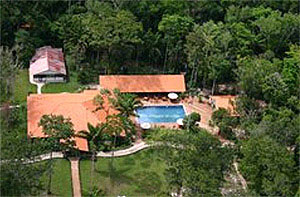 Target Species
Best Time of Year
All Year round but April to October is best.
Tackle Required
7/8 weight fly rods or Bait casters geared for medium sized fish to 20-30lb.
Fishing equipment is furnished at no additional cost as a service to our anglers. We furnish three quality Falcon rods and bait casting reels (Shimano and Curado), 80-lb. Spectra line and all the lures that are needed for the week's fishing. Still, you may bring your favorite gear and lures if you wish.
Fly Fishing Tackle
This aggressive jungle species is well suited to fly-fishing, leaving many fly-fishing world records to be set. An 8/9 or 9/10 weight fly rod is recommended. Reels should have a good drag, hold at least 150 yards of backing and be spooled with weight forward bass taper floating and intermediate sinking lines. For leader: we suggest 6-8 feet of 17-25-lb. monofilament.
Flies
Pattern
Size
Colors
Edge Water Pencil Poppers
2/0 & 3/0
white, yellow, chartreuse
Edge Water Boiler Maker
2/0 & 3/0
white, yellow, chartreuse
Deceivers
2/0—6/0
minnow colors
(blue/white, olive/white, charter, chartreuse/white, red/white)
Double Bunney
2/0—6/0
olive/white, pink/white, chartreuse/white
Mylar Minnow
2/0—6/0
chartreuse, green, red, yellow, white
Mylar Minnow
2/0—6/0
chartreuse, green, red, yellow, white
Spinning or Bait Casting Tackle
We use medium to medium-heavy largemouth bass tackle. For rods we suggest six to seven-foot bait casting rods rated for 25-30 lb. line. Due to the strength of the fish and the abundance of structure, we strongly suggest Spectra 80-lb. test braided Kevlar lines (really, these fish snap Spectra 50-lb. with ease); for monofilament, the "Magnum" 14/40-lb. line (14 lb. diameter), with standard reels of at least 100-yard capacity. While fishing for peacock bass, there is no need for steel leaders, in fact, they can be a disadvantage since they take some action out of the lure.
Note: Always inspect your line after a strike and after fighting a fish.
Spinning or Bait Casting Lures
| | | | |
| --- | --- | --- | --- |
| Manufacturer | Style | Size | Colors |
| Luhr-Jensen | "Woodchopper" | big game | black/orange, green fire scale, clown |
| Luhr-Jensen | "Ripper" | 3/4 oz. | black/orange, green fire scale, clown |
| High Roller | "RipRoller" | 6 inch | perch, clown, black/orange |
| Mann's | "Bass Agitator" | 3/4 oz. | white metal flake, chartreuse |
| Bill Lewis | "Mag Trap" | 3/4 oz. | chrome/blue, chrome/black |
| Bomber | "Long A" Heavy Duty | 8 oz. | silver flash, fire tiger minnow |
| Rebel | "Jointed Minnow" | 3/4 oz. | silver/black, silver/blue, fire tiger |
We mainly use the following:
Big-game "Rippers" or "Wood Choppers"
"Peacock Bass Specials"
"Jointed Minnows" or "Long A's"
"Rattle Trap" type lures.
The rest in the above list are optional. For piranha bring several 1/2 oz "Rattle Trap" lures in silver or gold.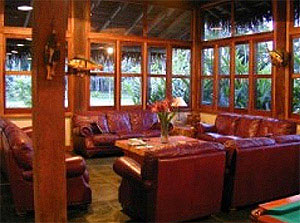 Country
Location
Travel Arrangements and Accommodation
All necessary ground transportation and air charters within Brazil in conjunction with the normal trip schedule.
Lodging (double occupancy) and daily laundry & Maid service.
Guide service in Bass boats 2 x1
All meals
Open Bar
Use of Quality bait casting rods and spinning gear and lures
Fishing Licences where necessary.
Cost of Holiday and Duration
$US 4250.00
6 days fishing