FISHING IN ARGENTINA
Patagonia Express
Fly fishing the lakes of Argentina is an awesome experience in breath taking scenery from snow peaked mountains to gauchos on the plains, we have our guides located in the heart of the Andes Mountains of Chile and Argentina, our knowledgeable guides will take you to the trout whether beginner or expert we can cater for all your individual needs. The package is all-inclusive and caters for everything from guides to meals accommodation, all transport on the ground. Flights not included.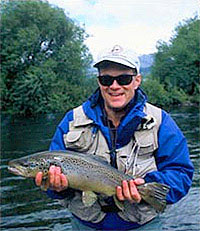 Target Species
Brown Trout, Atlantic salmon, Sea Trout, Steelhead, and Chinook.
Best Time of Year
November – April
Tackle Required
9ft to 10ft 6-8 weight as a good all-rounder, ensure a complete stock of fly lines attach tips like loop systems, and try to have tippet 6lb to 10lb to cope with most species.
Country
Argentina.
Location
Near Esquel Airport lodges are roughly 2-4 hours from Airport depending on Lodge. Located in the Andes Mountain range area
Travel Arrangements and Accommodation.
UK - Buenos Aires, Argentina and then either Esquel or San Carlos de Barilcohe, All lodges have superb internal and external 5 star facilities cooking is home cooking of
A high standard, Flights from Auk and transfer flights range £500.00 and £330 internal to Esquel Airport.
Cost of Holiday and Duration
Lodge 1- 7days /6 nights at Alceres Park. Cost £1850.00 itinerary 1
Lodge 1- 10days/9nights at Alceres Park. Cost £2665.00 itinerary 2.
Lodge 2- 6 days/ 5 nights at Segunda Corral Lodge. Cost £1650.00
A mix itinerary with Alceres Park, and Rio Yelcho, in Chile Cost £3333.00