FISHING IN AZORES
Blue Marlin, Blue Fin and Big Eye Tuna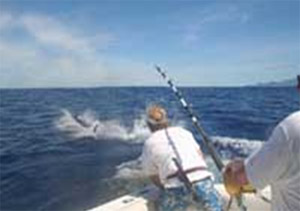 Captain Ian Carter: Originally from South Africa Ian has been running Xácara in the Azores since 1998. He also has many years experience as Captain on sport fishing boats in Ghana, Ascension Island and the Cape Verde Islands, which promises to be 'The Big Game Fishing experience of a lifetime. The experienced fisher will find you the best Mid-Atlantic big game fishing to be found in the Azores. And for those less experienced fishers and first timer's you will benefit under a watchful eye. The boat is fully equipped for all your 'Big Game' fish requirements and note we have a policy of 'tag and release' for all Billfish.
Around the Azores the waters are extremely deep, over 1000m, and good fishing can be found in the channels between the islands.
The water surrounding the islands of the Azores archipelago abounds in a variety of sea life, including huge pelagic fish such as the Atlantic Blue Marlin, White Marlin, and occasionally Yellow fin and Big Eye Tuna, Swordfish, and various types of shark (including Hammerheads, Six Gill and Mako shark). Smaller tuna species, Blue Fish, Wahoo, Dorado, Barracuda, and many more, can be found in abundance.
Furthermore the Atlantic Ocean around the Azores is brimful of numerous of species of dolphins and whales. Most commonly encountered are the Bottlenose, the Common Dolphin and the mighty Sperm Whale.
Fly Fishing
White marlin are renowned for their acrobatic performance when trying to shake free of the hooks. Excellent sport on light tackle using the "bait and switch" method or better yet, with fly. Salt water fly fishing is becoming more and more popular worldwide. The combination of calm conditions in the summer and abundant supply of good size white marlin in our waters make this an ideal venue for fly fishing. In September 2003 Richard MacLucas accidentally hooked a Blue Marlin while fly fishing for White Marlin on Princess Alice Bank. The fight was hard work on the light tackle and took 2½ hours before they had the fish at the boat.
Then the rod broke! They could have gaffed the fish several times, but since it would not make a new IGFA World Record they didn't want to kill it. The fish was released and estimated between 350 and 370 lbs. If caught on tackle according to the IGFA regulations it would have been a new World Record. Richard was back fishing with us in in the chase for a Blue Marlin the same size for another record attempt but "only" had the luck to catch a bunch of White Marlin on the fly.

Target Species
World Record: Blue Marlin, White Marlin, Spear Fish, Wahoo, Blue fin Tuna, Big eye Tuna, Dorado's,
Best Time of Year
For Marlin June July but May onwards who knows in this crazy planet change anymore. Atlantic Blue Marlin of gigantic size are found from May through October Average size 6-700lb world records are taken on a regular basis. And 800-1000lbers are not uncommon
Tackle Required
All fishing equipment is supplied at no extra cost
Standard equipment 4 x 130 Penn international with extra 80,50, and spinning gear.
Anglers need to discuss light tackle or fly rod equipment beforehand.
We have two custom harnesses that will fit most anglers from small to extra large XXX large could be a problem!
We supply all lures and use a full range of Big T, Fustin Foo, Moldcraft, Bart Miller and Gary Eoff/MarlinMagic; you can bring your own favourite lures but please ask the crew to check the rigging first.
I like to fish with SUFIX Hi-Vis Mono Top Shots and Dacron Backing, all supplied by Bass Pro off Shore Angler.
You can bring your own gear but please check with us first.
Country
Azores
Location
The Atlantic Ocean
Travel Arrangements and Accommodation.
We have two operators in the region both offering an excellent service.
Brasilia costs are as follows:
1day fishing 09.00-1900hrs - 10 hrs 900 euros
Xacara costs are as follows:
1 day fishing 0900- 1900hrs - 10 hrs 1500 euros (bigger boat).
We have a minimum of 2 days and 4 nights accommodation in a high quality hotel
140 euros per night accommodation costs includes breakfast, packed lunch supplied on boat, plus drinks.
Flights from UK Daily via BA. £200 - £300 Depending on the time of week you depart and season.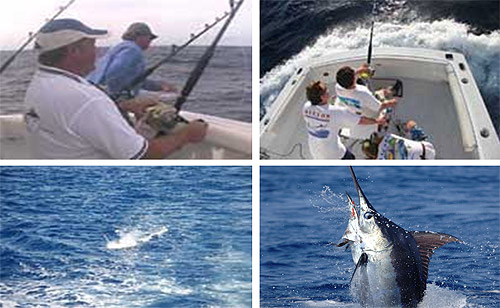 We will tailor your package to suit your needs there are plenty of things to do for non-fishers on the Azores, so you could make it a family holiday!
Spearfish
May to
June
World
Record Size
Big Eye Tuna
March to
June
World
Record Size
Blue Fin Tuna
October to
November
100 to
500 Kg
Albacore
All Year
10 to
20 Kg
Dorado (Mahi-Mahi)
May to
September
25 Kg+
Wahoo
June to
January
110 Kg+