FISHING IN THE BAHAMAS
Bonefish Paradise on Abaco Island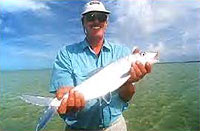 We run several trips to Abaco each year; We believe that here is some of the best bone fishing to be had anywhere in the world. Our Host, Nettie, is a Bahamian who has efficiently run her bonefish lodge for 30 years. Situated in 300 acres of private land, the lodge has immediate access to a huge area of amazing fishing.
Our guides have huge amounts of experience and local knowledge and will take you via skiff to their favourite haunts. You will find shoals of Bonefish, Tarpon and the elusive Permit.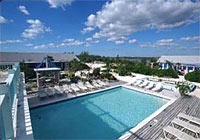 Food and accommodation are second to none. Clients stay in a very comfortable bonefish lodge sleeping up to eight. All rooms are double occupancy, and the standard of catering is very high. Nettie is a legend on the island for her fabulous cooking.
The hospitality is amazing. Guests are encouraged to write their testimonials to the weeks fishing on the walls of the lodge, and a homey relaxed atmosphere is prevalent. This is not only a great place to go fishing, but also to relax and enjoy real Bahamian hospitality.
For those who want t fish, but also bring the family, Netties' is a great place. Scuba diving, bird watching, and eight miles of the most perfect white sand beach are right outside the lodge. Water sports of all types can easily be arranged.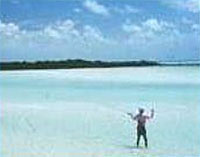 The Fishing
Bone fishing on Abaco runs for two seasons in the year: 15th of February to 15th June, and 1st of October to the end of December. We usually run 2 trips in each of these periods, although we can do more depending upon demand.
Situated on 300 acres of private land, the operation fishes either on the flats directly off the beach, or in the Marl. This is a huge area of mangrove islands that used to take an hour to access. In 1993 the owners cut a canal from the lodge to the Marl, reducing access time to ten minutes. This remarkable area teems with Bonefish, Tarpon and Permit. Because very few other fishermen will be seen in the Marl, the fish are not nearly as spooky as in other areas. Shoals of 5 to 6 lb Bones hunt the area, taking flies readily (but warily). Larger fish are to be found, up to 10 or 12 lb. Unlike in many areas, here a spooked Bone will return for another go at a fly, giving the fisherman a second chance. Another great advantage of this unique fishing area is the sheltered aspect it enjoys from inclement weather. All in all, a great place to fish.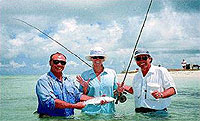 Tackle and kit
We recommend the following items of equipment for bone fishing.
Rod: 9 ft 8 wt.
Reel: Saltwater reel capable of accommodating line and 150 yds of backing.
Line + tippet: Bonefish line with steep taper bonefish leader.
Flies: Clouzer, Gotcha, Crazy Charlie, Pink Puff an assortment of standard bonefish shrimp patterns.
Good quality Polaroid sunglasses and spares.
Sunhat with visor and neck guard.
Long sleeved shirt with long trousers – lightweight and easy to dry.
Neoprene wading shoes or boots.
Heavy duty sun cream.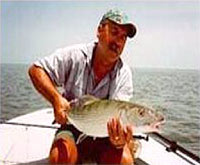 Location
Atlantic Ocean off Eastern tip of Florida USA
Travel Arrangements and Accommodation
UK. – Nassau Airport, Luxurious accommodation afforded with everything you will need to enjoy your trip.
Cost and Duration
Lodge 1- North Riding Point Club (Grand Bahamas) 7 nights / 6 days fishing.
Sharing £1993.00 - non-fishing £1363.00 - Single £3091.00. - 1st Nov- Mid March.
Mid - March – July - Sharing £2351.00- non fishing- £1363.00 - Single £3646.00.
Lodge 2 – Peace and Plenty Lodge all year round, 7 nights / 6days fishing,
Sharing £1663.00- non-fishing £1663.00, single £2950.00- Dec 16th - Apr 30th,
Sharing £1581.00- non fishing £1581.00, single £2790.00- May 1st - Dec 15th
Lodge 3 – Abaco Lodge
Price is based only on 2 persons sharing £2550.00 - 15th Feb-15th June. And 1st October – end of December