FISHING IN BELIZE
'Blue Haze'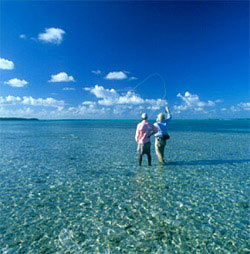 Turneffe Island Lodge full board here trips start Saturdays a dazzling palette of blues greens and talcum-powdered sand is already warm. You should really shower and have breakfast. But all you want to do is get out there on the water with a fly rod in your hand and stalk Bone-fish Permit and Tarpon ghosting the flats and mangrove creeks in one of the worlds great bone fishing destinations, just another day in fishing paradise. We can arrange a dive package for non-fishers as well, or sightseeing add-ons stop over, in Florida if wished.
Target Species
Permit, Bonefish, Tarpon and 30 other species locally.
Best Time of Year
November – May
Tackle Required
9ft rods with 8 weight lines for Bones and Permit but a better all-round rod for the in case 9ft 10 weight is a must with floaters a necessity. A good disc drag reel with plenty of 20lb backing will tackle most of the fish you will find here, I have caught 180lb Tarpon in Belize in May as bigger fish around here, a Advise an 11 weight be on board Justin case the opportunity comes along a 10 weight rod would take 7 hours to beat a 150 plus fish be warned! It will kill you as well as the fish!
Country
Belize
Location
Central America in the Caribbean East of Belize City as the crow flies.
Travel Arrangements and Accommodation
UK – Belize City airport and small charter to the island is 25 minutes
Cost and Duration
An overnight stay in Belize City or Miami Hotel around £70.00 per
Cost varies from £1976- £2053 depending on time of year, single supplements from £323.00.
Non-fishing partner from £911.00 to £968.00.
Shorter or longer stays can be catered for.
Flights are extra cost. And cost about £488.00