FISHING IN BRAZIL
'The Amazon Basin'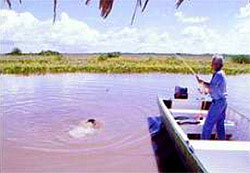 Fishing for Huge Arapaima Gigas, and hard fighting Peacock Bass in a remote location with accommodation being tented daily, on large comfortable boats ideal for 2 or 6 friends sharing you will be reliant on your skippers knowledge and skills.
A single angler can book with confidence: we will find another angler to share the boat if needs be. No luxury is expected here, but we take precautions to provide comfort for the hours we are not on the water.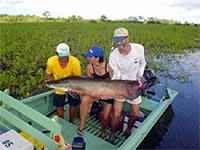 Target Species
Peacock Bass, Prarucu, (Arapaima Gigas), Giant Catfish, Tambaqui, Trahira, Bicuda, Pirararas, Lau-Lau, Sorobim, Jaus and many other species
Best Time of Year
All year round, - best months, May - November.
Tackle Required
A mix of heavy spinning rods capable of tackling heavy fish, fly rods 9-10 weights are sufficient, for sport 8 weight would be useful, flies should be bright and vary from half inch to 5 inch. Floating and a range of sink tip and full sink lines, come prepared.
Country
Brazil
Location
The Amazon Basin River structure as advised.
Travel Arrangements and Accommodation
UK- San Paulo Brazil collection by our staff and transfer's.
Cost and Duration
6 days fishing, 2days travelling from £1100.00 Sterling no supplements.
Does not include return flights, we can help by arranging this for you.