FISHING IN CANADA
British Columbia, Fraser River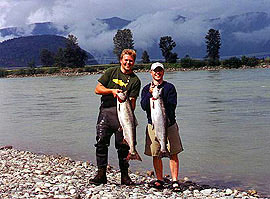 British Columbia, Canada, has some of the most phenomenal and exciting sport fishing opportunities the world has to offer. Every year our Salmon runs number in the 10's of millions. Our sturgeon fishing is world class, and if that's not enough so are the Steelhead and trout fisheries.
Simply speaking the Fraser River and its tributaries produce an awesome year-round fishery that's tough to beat. Combine this great fishery with spectacular scenery and wildlife. And you have the opportunity to experience the trip of a lifetime!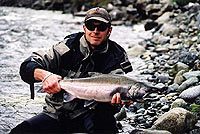 Who are we
We are a localised guiding company serving Vancouver, Fraser valley, and Whistler areas. Specialising in river sport fishing, targeting western Canada's top sport fish which include all 5 species of Pacific salmon, steelhead, trout, and of course, the prehistoric white sturgeon. We are fully insured, and our licensed guides are both professional and knowledgeable in their respective fields of river sport fishing. Safety and excellent sport are always at the top of our list!
Where do we Fish?
The Fraser River is approx. 850 miles (1360km) long, and is the biggest salmon producing system in the world. While fishing with us, you get the chance to fish a piece of this famous river. With the option to fish 8 other great rivers, you can be assured to find salmon and other species during the many different runs. All this great fishing can be done within approximately. 45 mins-1-5 hours drive from Vancouver.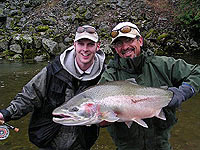 What do we offer
Whether you're a beginner or advanced, male or female, young or elderly, we have trips for you. We offer a multitude of trips, each custom designed for you or your party , in order to better suit your needs. We try our best to provide you with a high quality fishing experience that will leave you with an everlasting memory of your trip.
We supply all the necessary tackle and equipment, but you're welcome to bring your own . All trips come with meal options. As a licensed vendor, we can also supply you with the necessary licenses. The following is a list of trips we offer.
Overnight Camping/Fishing trips
MutliDay (4,7,10,day ) Fishing trips
'Ladies Only' Fishing trip
Custom or Corporate packages catered for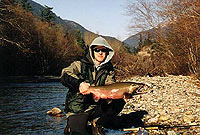 Species We Target
Salmon
We fish for all 5 species of Pacific Salmon, which include the Chinook, Sockeye,Coho, Pink, and Chum. With Millions of fish returning every year up the Fraser River and its tributaries Chinook average 20-30lbs, Pinks go 12lbs chum 12-20lb, coho up to 30lb and the past year had a larger that average of all species leading to some incredible angling.
Sturgeon
The Fraser river sturgeon fishery is the largest in the world thanks to total catch and release their size and power can be sometimes overwhelming, as they can reach weights in excess of 1500lbs ! The average sturgeon on the Fraser is between 60lbs – 200lbs, and hooking into a 20 Plus fish but they reach incredible weights and 1500lb fish has been taken! They fight hard they jump and explode out of the water adding excitement to the fight. Give it a try you wont be disappointed.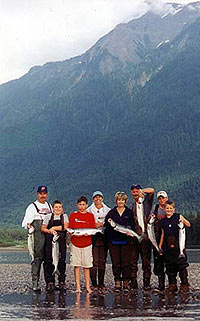 Steelhead
For the more adventurous anglers who are brave enough to face the winter weather and seek a bit of a challenge, we have a great steelhead fishery on two local river systems. These two rivers produce both wild and hatchery fish, with yearly runs totalling approx. 8-10,000 fish. Hooking and landing one of these acrobats can be a very rewarding experience. Many fish caught during this period push the 20lb plus mark.
Trout and Char
The Fraser River and its tributaries have some great cutthroat trout fishing. Both resident and seat-run fish can be found in the rivers at different times of the year.
Finding a school of moving or feeding cutties is half the fun. Once you find them they are aggressive and fun, Dolly Varden (char) we do catch them but only occasionally.
Timing the runs is important so see the chart at our other Canadian site
Sturgeon are year round.
We look forward to seeing you with us on the Mighty Fraser and its tributaries.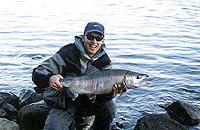 Sockeye Salmon Bonanza
The sockeye fishery runs from July through September. Come and experience some of the best salmon fishing in the world .Fish the awesome Fraser River and hook up to 40 plus fish per person per day!!!
Our sockeye salmon runs number in the millions producing a very successful and consistent fishery. Try it you wont be disappointed.
Location
Canada near Vancouver region
Travel Arrangements And Accommodation
You will fly from the UK to Vancouver Airport and be met at the airport by our representative Varied accommodation, but all luxuriously comfortable and well appointed includes Dinner Bed and Breakfast, packed lunch guides boats, flights are
Generally from £650.00 return we can help book your flight.
Cost of Holiday and Duration
Terrace, from £1350 to £1700 rises for July – November. Fraser river mixed
Accommodation - £1700.00 no single supplement.
Summer Place Lodge – from £1495, no single supplement.
Tyslos park Lodge - from £1678, single supplement £560.