FISHING IN CANADA
SKEENA RIVER, TERRACE
Steelhead, King Salmon, Sockeye, Coho Salmon, Chum Salmon, Pink Salmon, Cutthroat, Bull Trout, Dolly Varden Char, Rainbow Trout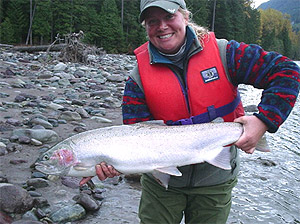 Canada Pacific Salmon & Steelhead Fishing at Z-Boat Lodge River Guides
We want you to live your dream, and British Columbia will fulfill all your needs whether it's swinging that big streamer for King Salmon or skating a dry fly for steelhead, it's the anticipation of the take, you know when you go down to that pool, it's a primeval feeling. Fish small tributaries or cast in tidal pools for bright rolling Salmon. Our river front lodge, on the banks of the Skeena River near Terrace, is centrally located to offer many options. Our guide-licensed territory is the most extensive in the Skeena watershed and includes its world–renowned tributaries: the Copper, Kalum, and Ecstall rivers. In addition, we fish the Kitimat, Kasiks, Nass and coastal rivers galore. Enjoy spectacular views of the Sleeping Beauty Mountain and the Skeena River while dining and relaxing in our comfortable lodge.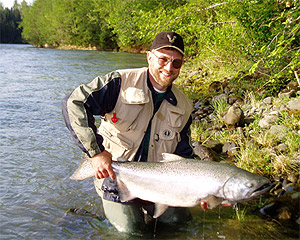 Target Species
Steelhead
King Salmon
Sockeye
Coho Salmon
Chum Salmon
Pink Salmon
Cutthroat
Bull Trout
Dolly Varden Char
Rainbow Trout.
Best Time of Year
Steelhead (spring) – March 15 to May 15
King Salmon – April 20 through August
Sockeye – June through August
Chum & Pink – July and August
Coho – August through October
Steelhead (summer/fall) – August through November
Cutthroat, Bull Trout, Dolly Varden available throughout the year
Tackle Required
Rods
Single-handed rods may be from 9 to 11 feet long in line sizes 8 to 10. Spey rods from 13 to 15 feet are appropriate in line sizes 7 to 9 for dry fly angling and 8 to 10 for wet flies. Anglers who wish to fish both wet and dry flies should bring one rod for each purpose. Spare rods are a good idea in case of an accident. We also have rods available for you to use.
Lines
We recommend at least two lines for wet fly angling with single–hand rods; a Rio VersiTip fly line and 20 foot sinking line such as Jim Teeny's 200 grain sinking line. 300-grain sinking lines are helpful in a few cases. Floating lines are excellent choices for wet fly-fishing in the classic "greased line" tradition and of course for your dry fly angling. Spey or double-handed rods with a multi-tip line work best. The most useful tips will be your floating tip and wet tips, Type 3, Type 6, & Type 8; Rio's new Skagit line works well for new spey casters and experts as well in many applications.
Reels
Bring high quality single action reels holding at least 100 yards of backing, 200 for fishing the Skeena. A good drag is helpful but not essential. Bring two reels if you fish both wet flies and dry flies.
Leaders
Dry fly leaders should be 10 feet long and tapered down to 12-pound test, wet fly leaders of 6 to 8 feet for sinking lines and wet flies with longer tapered leaders for "greased line" fishing. Tippets should be at least 12 pounds breaking strength. Bring extra leaders and tippet material.
Flies
Wet flies: Bring approximately 6 to 8 dozen wet flies in sizes 6 to 1/0. Mix colors and weights. All traditional steelhead and Atlantic salmon patterns work as do non-traditional streamer type dressings such as leaches and tube flies, etc. Some recommended patterns:Blue Moon, Egg-sucking Leaches – purple, blue, black, Articulated Leaches – purple, black blue, pink, orange, Muddler Minnows traditional, dark-bodied, purple, Black Matuka, Popsicles, Starlite leach – black with red head, purple red head, pink or black with chartreuse head
Dry Flies: Sizes 4 and 2, Skating Caddis, #6 or#8, Muddlers, foam dubbed body, #4 & #6, Waller Waker, Bomber, Muddler Minnow.
Wading Equipment
Anglers may use lightweight Gore-Tex waders in most seasons. Felt soles are helpful but not necessary; spikes/studded boots are discouraged. Wading staffs are a good idea; if you have a favorite one, bring it. Wading belts are recommended.
Clothing
Clothing should be layered with clothes for all seasons: fleece and capilene, supplex or fast-drying style materials. Bring a large brim hat or cap and quality rain gear.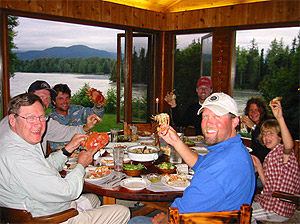 Miscellaneous Travel Items
- Passport
- Cash for tipping and incidentals
- Credit Cards – we accept MasterCard and Visa
- Medications
- Airplane tickets
- Polarized sunglasses
- Sunscreen
- Camera
Country
Canada - British Columbia
Location
Terrace: 500 miles from Vancouver.
Travel Arrangements
You will fly from the UK to Vancouver Airport connecting flight via Air Canada or Hawk air to Terrace. We use Canadian affair and flights are around £500 PP.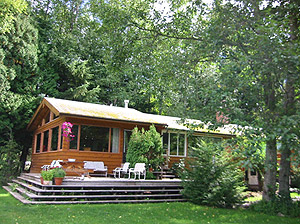 Accommodation.
Package include: guided fishing, private rooms for up to six anglers or 10 if shared, delicious home cooked meals: dinner, breakfast, and packed lunch, transportation from Terrace airport.
Cost of Holiday and Duration
Six/seven night package: $3,600 + GST Canadian funds per person = £2050 based on double occupancy.
Five/six night package: $3,050 + GST = £1700 Longer or shorter stays available just ask for a rate.