FISHING IN CANADA
SKEENA, KITIMAT RIVER REGION
Pacific Salmon Fishing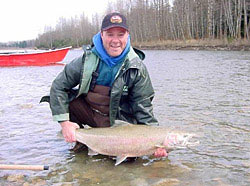 We are at the Upper Kalum River lodge near Kitimat B C for your Fishing trip of a lifetime. Huge salmon of all species and Steelhead to die for from 15th March Through to November. This system is a non-classified river and is teeming with fish the entire season. The Kitimat River flows into the Douglas Channel, we also fish the Skeena River. Here, world record Salmon and Steelhead are in any of the runs and lies we put you over during your stay
Target Species
King Salmon
Coho Salmon
Chum Salmon
Pink Salmon
Dolly Varden Char
Cutthroat Trout
Steelhead.
Best Time of Year
March 15th Steelhead season starts and spawning Steelhead the 3rd week of May. This triggers the run of Kings that are in full spawn by the third week of July. At this time all Salmon species are running as well summer run Steelhead until November.
Tackle Required
General Salmon Spinning gear and Fly 10' 7-10 weight rods with a mix of lines, or multi-tips, and some serious surface flies are a must, as well big colourful feather flies. Your guide will assist here on size and presentation.
Bait casting rods we suggest 8-10ft with 25lb Test for Chinook/Kings and the others 15lb test.
Country
Canada - British Columbia
Location
Canada 550 miles North West Vancouver region
Travel Arrangements And Accommodation.
You will fly from the UK to Vancouver Airport and be met at the airport by a representative or go to Hawk Air on the internet (pre book) for your flight to Terrace, you will be met at the airport by our Guide or representative, varied accommodation, but all luxuriously comfortable and well appointed includes Dinner Bed and Breakfast, packed lunch guides boats, flights are
Generally International flights from £650.00 return we can help book your flight.
Internal flight goes to www.Hawkair.ca to book internal flight $300 Canadian return. And takes 90 minutes approximately.
All lodges are to a high standard clean and tasteful with superb views. Food is quality home cooking and packed lunches daily.
Cost of Holiday and Duration
In US Dollars. /Sterling in Brackets.
6 days/7 nights $2499 (£1405) 3 per boats 2 per boat $2699 (£1542) 1 per boat $3399 (£1906) all season costs.
7 days/8 nights $2699 (£1542) 3 per boat 2 per boat $2,950 (£1654) 1 per boat $3,659 (£2052)
All above season. Unclassified Rivers cost in US dollars and drift boat fishing with Guide all food transfers licences. Etc. add £270 for international flight and £150 for internal flight you will be allocated a flight that gives a good connection via Hawk Air.
Add to any of the costs the below tarrif's as extra's.
Classified Rivers add $100 US per day per person per day.
Jet Boat cost from $50.00 US. per day.
International flight from UK from £270.00.
You will also be issued with a receipt to enable you to claim back any taxes charged while staying, this should re-coup between $2-300 dollars or the price of your internal flight in real terms, also if you do not retain any fish a $40 dollar saving can be attained.