FISHING IN CANADA
Terrace, British Columbia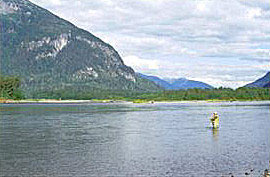 I wish you a warm welcome to Terrace , British Columbia, Canada.
The site of our comfortable well appointed fishing lodge in the heart of the worlds finest Salmon and Steehead (Sea Run Rainbow) fishery.
Our aim is to give you the opportunity to fish in real wilderness surroundings, free from human intrusion, and rivers and lakes teeming with large populations of wild fish. Unrivalled scenery, providing you with a wealth of local knowledge and
comfortable accommodation all go to make your time with us memorable one. And hopefully you may return again in the future.
Whether you may be a beginner an advanced angler, the opportunity to fish the Skeena region is not to be missed!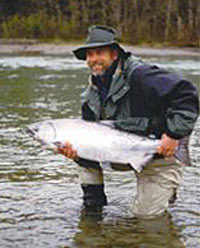 Fishing The Skeena Regions
The Skeena River - Rising amongst the Skeena mountains this powerful river travels an unbelievable 300 miles to reach the Pacific Ocean. Its tumbling waters are home to some of the largest members of the Salmon family to be found anywhere in the world.
Fly fishing and spinning regulary produces Chinook Salmon in excess of 50lbs and Steelheads to 30lbs, catches of 10 good sized fish are not unusual in a fishing day. Between March and October this scenic expanse of water becomes a Salmon highway, in this period in excess of 13 million Salmon travel its lengths.
The Kitsumkalum River – born from glacial waters like the Skeena is a magnet for spawning Salmon. It however gains its reputation from the huge amount of large steelhead and record Chinook taken during the season. Separated by an impassable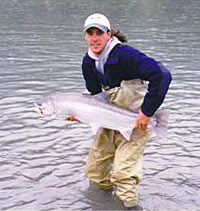 Canyon, we fish both the upper and lower sections of this river using Jet and Drift boats. The average Chinook is a staggering 35lbs and the record stands at an amazing 85lb?
The Kitimat River – this beautiful river stretching for just 25 miles is a haven for wildlife and is drift boat- only rule on the river helping to maintain the areas serenity.
Along the river it is not unusual to see Grizzly bears, Black Bear, Lynx, Eagles, Otter.
For a small river it has an enormous run of huge fish, is crystal clear is a favourite with the fly fishing fraternity.
Prince Rupert Sound – the venue for most of our deep sea Halibut trips, these waters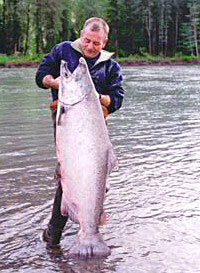 Regularly produce 150lb fish and may be in excess of 300lb. Enormous shoals of bait fish ensure that it's waters are stocked with these leviathan Halibut and Salmon. Halibut fishing is done from boat using Perks or bait, the Salmon fishing is by trolling and mooching in the open ocean (Mooching is using live bait herring).
Target Species List
Steelhead (Salmoirideus gairdneri) - this fish almost ignored during the Northwests early decades is one of the worlds toughest and hard fighting game fish and does not face inevitable death after spawning, if he can maintain 60 % of his body weight in migration up stream he will get back to sea, rebuild strength, get bigger and return to spawn. For this reason we exercise our catch and release policy.
Chinook (Oncorhynchus tshawytscha) - the largest of all the pacific salmon this fish is the mainstay of the many sport fisheries. These marathon fish can travel in excess of 2000 river miles during a 60 day period to spawn. With fish in excess of 50lbs regularly taken, they are a highly desirable target for the sport fisherman, Using Fly, spinning, or bait. We target these fish from May until August. An Alaskan fish of 97lbs presently holds the world record and many fish well above this size regularly run in the rivers around our lodge.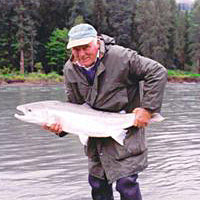 Coho (Oncorhynchus kisutch) - called the Silver Salmon this sporting species is almost identical to the Atlantic Salmon. The Coho is extremely adaptable and can be found in nearly all accessible bodies of fresh water. Coho are spectacular fighters and acrobatic fish, on suitable tackle will provide a thorough test for even the most experienced game fishermen. Averaging 10-12lbs but larger specimens have been caught in all the rivers we fish exceeding 30lb.
Sockeye (Oncorhynchus nerka) – commonly referred to as the red Salmon it occurs in the North Pacific and the Arctic Ocean and associated fresh water systems. Highly prized as a table fish and for this reason is heavily targeted by local anglers. Fights with an initial searing run 80-100yards is common, tough and durable.
Chum (Oncorhyncus keta) - referred to as the Dog Salmon because of the males tendency to devlop a hooked jaw and large teeth. This Salmon is well known for its ariel antics, and when hooked care must be taken to bow your rod as the fish leapsor he,ll break you. Reaching sizes of up to 30lbs the standard size tends to be 12lb-15lb.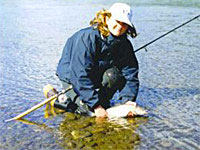 Pinks (Onchorhynchus gorbuscha) - common name is 'Humpy Salmon' as you guess he has a pronounced lateral hump, which males develop prior to spawning , it tends to prefer taking flies which is unusual but who says we know how a Salmon thinks.
Halibut (Hippoglossus stenolepis) – the largest member of the flat fish and the fight can be long and hard and very dogged as they don't give up easily usually caught from boat with bait or perks, Fish of up to 300lbs live in the grounds around Prince Rupert Sound, average size tends to be 50lb with regular 150lbs fish coming to boat.
Packaged Trips
We can arrange all your flights, insurance etc, which are a cost on top of the lodge and fishing cost.
Prices include the following
Collection from Terrace airport. Accommodation in the lodge, boat trips, food, soft drinks, and transport in and around the lodge area. ( There will be an additional charge for ocean trips, depending on number of anglers )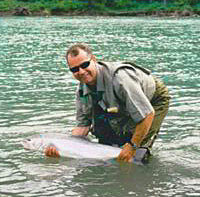 Equipment
Although we can provide tackle for all our fishing trips it is advisable to bring along your own. We recommend the following.
Fly Fishing
11-14ft single or double handed rod using a 9-10 weight line. Good quality reel with 300 yards of Dacron backing line, floating, intermediate, and sink tip, fast sink lines are required for all conditions.
Spinning
11ft stiff action rod, with good quality light multiplier Abu 6500 or 7000
Local lures and spinners are available and tend to give best results.
Clothing
Light weight waterproof jacket, fleece under jacket, chest waders, sunglasses and flotation jacket is needed in case you fall in rivers are powerful and fast moving.
We look forward to you joining us in Canada for the trip of a lifetime we look forward to fishing with you in the future.