Home Page
About The Fish That We Fish For
Newsletters
OUR FISHING COURSES
Trout Fishing
Sea Trout Fishing
Salmon Fishing
Grayling Fishing
Salt Water Bass &
Pollack Fishing
Casting Tuition
EXCLUSIVE PRIVATE FISHING
Click for Info & to Apply
FISHING HOLIDAYS
| | |
| --- | --- |
| | Alaska(USA), Argentina, Azores, Bahamas, Belize, Brazil, Canada, Canada, Chile, Congo, Costa Rica, Denmark, Egypt, Gabon (AFRICA), Gambia, Greenland, Iceland, India, Ireland, Kenya, Kola(USSR), Lithuania Mexico, Mongolia, Montanna(USA), New Zealand, Norway, Scotland (UK), Seychelles & Mauritius, South Africa, Southern Tanzania, Sweden, Wales(UK), Zambia, Zimbabwe |
Personal & Corporate
FISHING VIDEOS
_Click too See Our Video Collection
CORPORATE DAY
_Cost Effective Fishing
FISHING GIFT FOR B'DAY / XMAS
_For Partners & Friends
BOOKINGS
Click Here to Book a Course
ACCOMMODATION
Places to Stay In Bala
CONTACT DETAILS
Email:
Click Here to Email Us
Mobile:
+44(0)7795 214 934
Online Enquiries:
Click Here to Send Enquiries
Location:
Address, Map & Directions
SPONSORS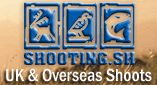 EXTREME FISHING 2 AT LUXURY CONGO, AFRICA
Goliath Tiger Fish
NEW:
Take a look at our dedicated Goliath Tiger Fishing Site: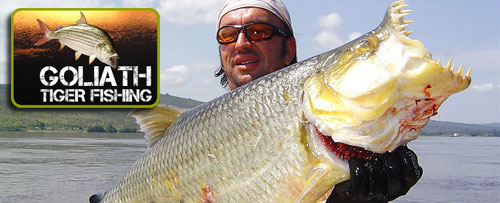 Our new lodge newly built fully furnished catering for all your needs in the best traditions of an old colonial period.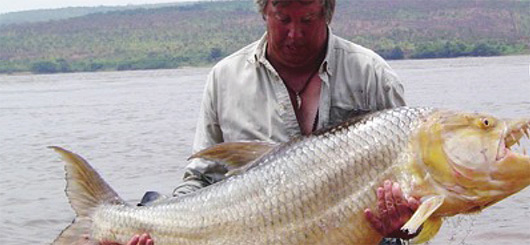 The Neuville family have a tradition in the Congo hunting down the most sought after predatory fish in the world, the Goliath Tiger fish or 'Mbenga'.
Daniel who ran the operation pre 2008 sadly past away last year due to a long term illness.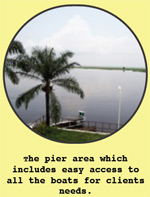 Raymond his brother has worked tirelessly to re build a new lodge, new boats, to a high standard. They are now open for business and we can offer our new and past clients a little luxury in chasing down the most ferocious of fish.

A typical day
- Breakfast from 0500 am.
- Fishing from 06.15 hrs to 12.00 hrs snacks served at 09.30 hrs
- Lunch at 12.30 hrs.
- After lunch at 14.00 hrs You are free to fish from the bank area ad we suggest specific beach casting techniques with live and dead baits.
- Dinner is served at 19.30 hrs, but again you may wish to fish on into the night.
The build of a Goliath tiger fish (what you're up against):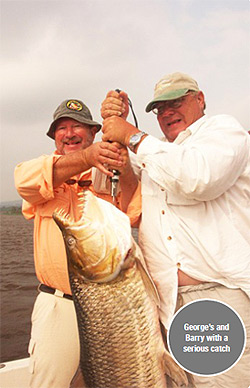 The powerful jaws display a set of 32 razor sharp teeth fully visible on the exposed jawbones. 14 teeth set in the lower Jaw and 18 on the top jaw; some have 34 teeth with 20 upper and 14 lower. On live specimens the smaller teeth located at the back of the jaw near the mandible joint are concealed by the gums leaving only 10 teeth on the upper jaw and 8 on the lower, clearly and fully visible 'Mbenga with teeth in excess of 3 centimetres have been caught, the longest teeth are usually the second set on the upper jaw. The teeth are well exposed, set at the edge of the jaws with minimal lips, and like two knife blades slicing in opposite directions they produce a clean cut as the jaws close, teeth perfectly interlocked. 'Mbenga' is thus able to attack prey many times its size, recently a report of an attack on a huge catfish was reported. After the attack the catfish was still alive rolling in the water and neatly and surgically cut in half, it was pulled from the water; the half portion tail section weighed 15 kilo. Whether the jaws are opened or closed, The Goliath always has 18 teeth on display and gives a ghoulish and diabolic appearance, like a shark it has replacement teeth that are positioned behind its existing teeth in the cavities within 'Mbengas' jaws.

Your fishing trip is an all inclusive deal on site.
We can cater for persons who only wish to fish for half a day or you can choose how many days you want to fish for its unlimited and our charges are by the day, note we advise a minimum of 8 nights and 6 days fishing for long distance traveler's.

Airport Meet and Greet.
You will be met at Brazzaville (Maya Maya) in the Republic of Congo at the airport transfered promptly to our fishing lodge.

The Lodge and facilities.
Air -conditioned rooms for your full comfort each room is a twin bedded unless you wish to have your own single room a supplement of Euro 40 will apply and only after availability of rooms are left.
- Meals.
- Breakfast.
- Mid morning snacks.
- Lunch.
- Evening Dinner.
- Local drinks included.
- Soft drinks and Beer as required from 05.00 hrs -00.00 hrs.
- Wine and Liquor are low cost but need to be purchased
- Gift shop Tobacco, candy/sweets own cost.
The Lodge Area:



The Lodge is well appointed and will not disappoint food is to a high standard, the power boats are all new so we do not expect any problems with getting you to the correct fishing areas.

Also Bob Glynn a well known UK fishing guide/National Fly fishing instructor is available to any party at an advised cost to any group to ensure you know what to do and how to tackle these fish.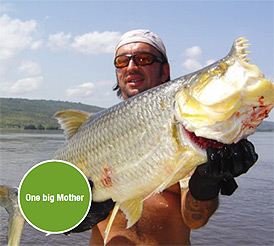 Essential Needs:

Medical: Yellow fever, (a must) hepatitis A, B 6 weeks prior. Tetanus booster, malaria tablets.

Flight Check: have you sent me your arrival and departure times?? It is to Brazzaville in the republic of Congo. (not Kinshasa DCR)

Fishing equipment: Have you read my article initially sent for read up and needs!! Email me and I will send the list if you book we send this automatically it is essential reading

Insect repellent. Good quality.
Sun lotion and factor 30 is recommended.
Take Proof - or currency of $1500 minimum as it's a requirement to enter the country.
Get doctor to prescribe antibiotics in case you get dysentery, it will nail it
within 24-48 hours.
Check your fishing tackle and take a back up rod and reel I advise 3 rods 3
reels ensure they are all working and the rods are well packaged.
40lb Monofilament I recommend due to nature of river.



Costs.

Per day. 1 night plus 1 day full fishing.
1 person per day -------330 euro
2 person per day -------620 euro (310pp
3 person per day -------900 euro (300pp
4 person per day ------1160 euro (290pp
5 person per day ------1375 euro (275pp
6 person per day ------1620 euro (270pp

Per half day
1 person/half day ------290 euro
2 person/half day ------540 euro
3 person/half day ------780 euro
4 person/half day -----1000euro
5 person/half day -----1125euro
6 person/half day -----1320euro

So the bigger the group you get together the cheaper it becomes.