FISHING IN COSTA RICA
Planet Tarpon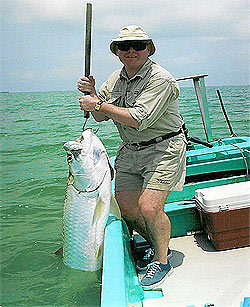 Casa Mar has become synonymous with great Tarpon and Snook fishing. Very likely you will have already read and heard about this famous lodge in fishing magazines or from well travelled bone fishers, located in the North East Caribbean in a remote rainforest setting which has the largest river and lagoon system of fishable waters on the east coast of Costa Rica. Luxury air-conditioned sleeping rooms water is filtered and pure. Food is home cooked and you can eat all you desire. This is Tarpon planet and they are here by the thousand from January – May and in September October only scattered Tarpon are found in river and lagoon average sizes are 75lb-150lb Snook up to 20lb are common.
Target Species
Tarpon, Permit, Jack Crevally, Bone Fish, Snook, (Big Snook in April).
Best Time of Year
Best time is through January - May and September – October only scattered fish are around in the river system, instead they are congregated around the river mouths so come and fish in the Estuary!
Tackle Required
Tarpon rods, of 6.5 feet, to 7 feet designed to handle 12-20lb line are most common Fly equipment an 11 weight fly rod is a minimum with suitable reel with disc drag reel, 10 weight line to push large Tarpon flies, you may hook a large fish and anything lighter will kill you and the fish!! Ask North Wales Fly Fishing owner Bob Glynn He is probably the UK's most experienced Tarpon hunter and has guided for Billy Pate, Tom Gibson and Almerio Maderia, (Serious tarpon Fishers and ex and current world record holders), over the past few years in Africa for world beaters, 4 hours later on 15 weight rod!! Take the hint. Get the idea it is not fun in a stand up with a 200lb fish. Fly lines 850 grain and quick switch lines to go deep at times.
Country
Costa Rica in the North East Caribbean in a remote rainforest.
Location
North East Caribbean in a remote rainforest.
Travel Arrangements and Accommodation.
Casa Mar, is nestled in seven acres of tropical garden, a scenic, serene setting. The main lodge and 6 duplex cabins, are on lush grounds, the lodge faces onto the fresh water lagoon, all necessary luxuries are in the complex for your comfort, food is home cooked and fresh daily. Flight from UK Miami- and accommodation in San Jose is not included in cost, nor tips and Rods reels and terminal tackle.
Cost of Holiday and Duration
Cost 5 days fishing 7 days £2200 or 7 days fishing 9 days £2950