FISHING IN EGYPT
Nile Perch Safaris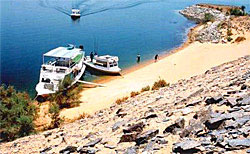 The African Angler operates big game fresh water fishing safaris. Which start from either Aswan or Garf Hussein on Lake Nasser. In the 1960,s a dam was built on the Nile at Aswan, the resulting lake flooded 496km (over 300miles) of the Nile Valley,
Creating one of the largest man made lakes in Africa. The resident fish population of the original river were presented with a huge lake to live in and have thrived in their new habitat, especially the Tilapia and there predators, Nile Perch Tiger fish, and big catfish. Aside the terrific angling , the lake is a lovely place to visit. It's a magical wilderness of stunning desert scenery, bordered by the clean water of the lake, which is dotted with rocky islands: there is an atmosphere of tranquillity, vastness and adventure; a wilderness where a group of anglers have hundreds of square miles to themselves.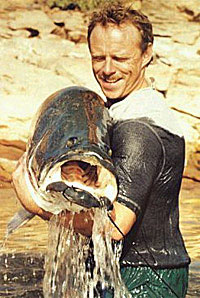 Lake Nasser Safari
The Lake Nasser safari is made up of two or more fishing boats, which are supported by a supply boat that acts as a mobile camp and rest area. The supply boat is equipped with a full kitchen, dining and rest area, toilet and shower. Departure dates for Lake Nasser Safaris are guaranteed. A single angler can book with confidence: we will find another angler to share the boat with them.
Nubian Safari
The Nubian Safari offers a degree of independence, which many anglers prefer. This safari is ideal for two or four friends who like to fish together. They can charter one or two fishing boats and then set out to roam the lake at their own pace on an adventure fishing experience that has few equals anywhere. There is no supply boat on these safaris. Our Nubian Safari fishing boats are equipped with a compact unit of camping equipment. An experienced guide and a cook take care of all the camping requirements and man the boats . Each fishing boat carries only two anglers. The minimum number of anglers required for a Nubian safari is two in one boat and the maximum is four in two boats.
Stealth Safari
The stealth safari is designed for two anglers who would like the privacy of their own private safari with extra fishing flexibility and a level of comfort that cannot be provided on a Nubian Safari. A small supply boat with comfortable accommodation, cooking facilities and a safari cook , supports the stealth safari while the main fishing platform is the stealth fishing boat. Both boats are provided with hand held VHF radios for communicating. Stealth boats are 5.5 metres long and are fitted with a quiet 25hp engine, fish finder, live bait tank and oars, the capacity of this new boat is two anglers and one guide. They are capable of drifting or of being rowed over underwater promontories or past rocky drop offs allowing the angler to cast, using live bait or wobble dead bait without the disturbance of a noisy 40hp or 55hp engine. The smaller 25hp engine allows for much quieter trolling. Essentially the stealth boat is designed as a casting trolling platform, which will be able to cover key fishing hot spots with a minimum of noise and disturbance.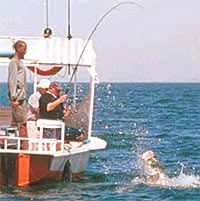 Accommodation on the Boats
We have spacious sleeping accommodation and plenty of room to move freely around the boats. The supply boats carry all the safari equipment provisions, fuel, and shore staff (cooks, helpers etc) They have built-in kitchens, toilet, shower and large iceboxes to keep food fresh and drinks cool. A supply boat enables comfortable camps to be set up close to the best fishing areas, even when the shoreline is rocky and not hospitable. The standard of food on safari is highly rated by the anglers who have spent time with us. We have one member of staff per angler with little to do accept relax and fish.
Nubian And Stealth Safaris
Prices in this table are per person in pounds sterling. They cover a transfer from Aswan airport or an Aswan hotel from where we will transfer you directly to the safari start point at either Aswan or Garf Hussein. At the end of the safari we will transfer you from the lake to Aswan airport.
Six & thirteen day packages
Start on a Tuesday and end on a Sunday on any day of the year : there are no closed dates for these safaris.
Three-day Packages
Three day packages can start on any day of the week throughout the whole year the 3 day package , 3 days fishing 2 nights on the lake) are the shortest available safari, if you want a safari that is longer than 3 days, then take the three day price and add on the cost of each extra day you require. See Arrival & departure package, for details about arriving at either Cairo or Luxor airport.
One Day Fishing Trip
We will collect you from your hotel or cruise ship at 0830am and transfer you to your fishing boat on Lake Nasser for a full days fishing returning to Aswan at 04.30pm when we will transfer you back to your hotel or cruise ship. We will provide you with up to 3 sets of rods, reels and lures and you only have to pay if you lose any lures. An experienced guide will captain the fishing boat and a packed lunch is also included. The fishing boats will comfortably carry up to five people with three fishing. There will be plenty of opportunity for shore fishing and getting off the boat to explore the desert beaches.
One Day Fishing Trip Cost Per Person Per Day.
1 person £100, 2 persons £60 3 persons £50 4 persons £40 5 persons £35.
Safari Start Point
Our safaris start at either Aswan or Garf Hussein. The safaris starting at Aswan involve a 15 minute bus ride from either the Aswan airport or from a central Aswan hotel. From Aswan we normally travel for about 3 hours in the fishing boats to reach the best fishing areas, this journey will give you chance to tackle up and get organised.
The transfer to Garf Hussein takes two and a half hours by road from Aswan and after boarding the boats you can be fishing within the hour.
Unfortunately we cannot guarantee an individual booking starting at either Aswan or Garf Hussein. There are two reasons for this. First, it is almost impossible to organise in advance the logistics of where the boats start and end the safari because to make these plans we have to know in advance how many anglers are booked and how many safaris we have operating on any given departure date. The second reason is that a big part of our safari route planning depends on where the fishing is. We also like to 'rest'
fishing areas as well. With approximately two thirds of the lake available from these two start points there is plenty of territory to cover – some 1,200 square miles.
Important requirement
Lake Nasser is a controlled area and as such we have to apply for permission for each angler who visits the lake. To get this permission we need a photocopy of your passport. Information pages only the visa pages are not required. Please be sure to scan and email or fax this information when you make a booking. If the passport photocopies have not been received within 30 days of the departure date we might not be able to get your fishing permission in time.
Location
Lake Nasser at Aswan
Travel Arrangements and Accommodation
UK- Cairo or Luxor, and then onward to Asswan most International flights arrive in the evening so a night stay is required, and next day to Aswan, departure is reverse of afore mentioned, All fishing permits, and permissions, Use of Boats for trolling 8 hours Use of fishing boats for unlimited shore fishing, supply boat on Lake Nasser safari, and Stealth Safari, all meals beverages, and filtered water. The safaris start at Aswan or Graf Hussein, You will be transported daily from your hotel, if you are sleeping on the boats they are spacious built in toilets, shower's, and large ice boxes for to keep food fresh and drinks cool. We have one member of staff per angler; food on board is of the highest standard.
Cost and Duration
Cost varies with season 3 anglers in a boat from £630.00 2 anglers from £695.00 and a large amount of variables.
For Nubian Safaris - Budget 2 day package £250.00 add £100 per day a 6 day Package will cost £775, 13 day's- £1360
For Stealth Safaris – Budget 3 day package £450-£475- add £140.00 per day- a 6 day Package £890.00
You need a visa 30 days prior to you considering a trip, hotel cost at Luxor is £110.00 sharing £90.00 single, as you will need to stop over high season supplement all packages.
Flights are not including in the price although we can book a competitively priced flight for you. Budget £400.