FISHING IN GABON, AFRICA
Giant Tarpon, Sailfish, Trevally, Permit, Cuda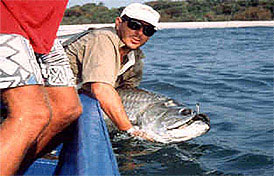 Gabon straddles the Equator on Africa's west coast between Cameroon and the Congo Republic, one of the continents least known countries with 1.3 million inhabitants of whom two thirds live in the capital Libreville(LBV) the rest is tropical rainforests with one railway line into the interior and few road s to speak of, It is oil rich politically stable with a strong French military prescence. We use three camps in this area. Being Francois Horents's Ozuri Estuary, the Igeula and a new camp the Gavilo. On the huge Iguela Estuary.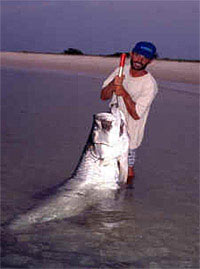 Ozuri Camp
The ozuri estuary is wide and sandy & shallow offering easy access to the ocean, this is an important point –at Ozuri, Francois can fish inside and outside the estuary, whereas down at Iguela boats cannot (usually) go through the mouth of the estuary.
Francois can therefore fish Ocean and inner Estuary to suit tides The Tarpon are close inshore, but can move offshore around the oil rigs for sailfish,wahoo,kingfish and other open water species. Francois speaks good English an advantage! He runs two boats and the packages are based on three per boat if only two per boat it works out at $22 per day extra. You can fish 4 but not recommended as three lines are out for Tarpon at any time and is the best arrangement.
Francois is a Tarpon specialist and Ozuri (both inside and just outside the mouth) is considered best for Very big Tarpon, fish in excess of 100kilo's are caught regularly by our clients. But for other species such as Cubera Snapper. various kingfish and giant threadfin, the rocky Iguela estuary is more productive – and also produces plenty of Tarpon as well.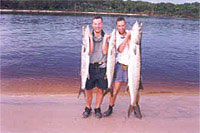 Gavilo Camp
As above but with these trips you will spend the first and last nights of your trip in LBV.
Iguela Camp
Is about 70km south of Ozuri and consists off wooden twin bungalows and a bar/dining area, at the forests edge overlooking the lagoon. Boats are outboard –powered, 8 metre fibreglass "banana boats," never fishing more than three anglers plus skipper. This is a forest reserve, with gorillas,chimps,forest elephants,buffaloetc, and game drives are possible with the camp vehicle. It is about seven minutes by boat to the lagoon mouth, the primary fishing area both from anchored boat(mostly Tarpon) and by surfcasting from the beaches for tarpon cubera,giant threadfin,trevally etc.
Target Species and General Information
Tarpon are caught both from beach and boats, on lures, livebaits or most often drifted deadbait: Iguela record landed is 254lb (115kg) and at Ozuri francois has landed fish over 125Kilo (275lb) bigger are fish have been hooked and lost several times in recent years. There has been limited success on fly as the water is tea stained, but big flashy flies do work, I suggest that had they a flats style boat with obsevation deck more tarpon would fall to fly. But other species kingfish/trevally up to 30kilo, Cubera snapper and giant threadfin to 40kilo true barracuda to 30kg, but permit and pompano exceed 25kilo here and a potential Pompano world record could fall. The water here is seldom 5 metres in depth so movement of tarpon is easier to spot.
Best Time of Year
Gabon is humid, although temperatures seldom go above 32c. There is a short rainy season from Nov-to mid –Dec, and the main rains fall from Feb to May. June to Oct is cool 26c and fairly dry. Tarpon are present all year around but the big ones like the rainy months (they hang around the estuary mouths during this period). Nov-April is peak tarpon season. June and July are considered Quietest for tarpon, but best for marlin,sailfish,wahoo,kingfish and other offshore species.
Tackle Required
General Fly rods 9' 12 to 15 weight rods (Tarpon) 9' 9-10 weights rods for smaller species trevally permit etc. with a mix of lines and some serious mouse pattern surface lures are must, big lures for big fish. We do not sell flies at the camp please ensure you stock well up if you contact Mr Glynn he will advise patterns that are to be taken. For live baiting or lure fishing a rod and reel combination suitable to handle anything in the 2-300lb class is required for a arm wrenching battle.
Country
Location
Near Libreville and Sainte-Anne depends on camp.
Travel Arrangements and Accommodation
Ozuri.
Saturday depart Heathrow to Johannesburg depart Sunday 1655 hrs by Air Gabon,747 arrive LBV 21.35 met and transfered to Novatel Hotel for O/night B&B. then on Monday transfer flight from LBV to Port Gentil Francois, will meet you and transfer you by boat to Ozuri. For 5 nights full board with daily fishing based on 3 fishing per boat.
Returning on Saturday to LBV overnight at Novotel Hotel B&B Sunday early transfer for Air Gabons 07.15am flight to JHB arrive 13.45 transfer to Haethrow flight to UK.
Seven nights in Africa $US 1985 per person sharing or a single supplement $US118.
Iguela
Saturday depart Heathrow - Sunday depart JHB 1655 by Air Gabon Boeing 747, arrive LBV 21:35, met and transferred to the Novotel Hotel for overnight, bed and breakfast.
Transferred back to the airport for flight to Omboue (45 mins), then 4x4 transfer to Iguela Camp.
6 nights full-board at Iguela, daily boat and/or beach fishing.
Saturday transfer back to Omboue for morning flight back to LBV, met and transferred to Novotel Hotel for overnight, bed and breakfast. Sun -- Early airport transfer for Air Gabon's 07:15 flight to JHB, arrive 13:45.
Note: With groups of six or more, the Saturday transfer back to Libreville can be done in the afternoon by private plane instead of in the morning by schedule flight. This is far preferable - allows an additional morning's fishing, plus lunch at the camp - but it does cost an additional Euro 22 per person.
Seven nights in Africa (Sunday - Sunday)
Euros 1 349.00 per person sharing or Single Supplement Euros 159.00
We have other packages from 6 days to 14 nights we can tailor to suit your needs.
Note the following
Medical needs Yellow fever is compulsory don't go without it, Take Malaria/mosquito precautions see your doctor.
Visa is required we can arrange this for you.
Take sunscreen adequate film insect repellant sunglasse and light waterproffs it can rain any week in Gabon.
Medical travel insurance must be in place.
For land arrangements only (ie flyinginto LBV from some other part of the world therefore not requiring JHB /Libreville return flights deduct 323 euros from each of the packages to get price starting ending Libreville.
Note where 'minimum group of six' is specified, this is because of the private aircraft used to take clients in/out of Iguela. This plane can be used by smaller groups but then the price alters for a group of four add Euro 42 per person to above package prices.
A non refundable 30% deposit is required while booking we advise you have suitable holiday insurance while making the booking to cover unforeseen circumstances.