FISHING IN GAMBIA
Giant Tarpon in Banjul and George Town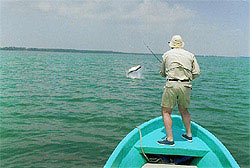 North Wales Fly Fishing school run 4 trips through March April - seeking the Giant Tarpon over 300 lb, which dominate this time of year at the river mouth just outside Banjul. But in September we can offer blue water fishing for sailfish, Marlin, and Dorado on the fly, or you may want to go up river and tackle the tiger fish, near George Town. The reef fishing is varied and enjoyable and for sheer fun there are a huge variety of fish taken here, cassava, stingray to 400lb, Pompano, Guitar fish, Cubera snapper (Big ones) and cobia snapper, black fin Tuna, the list is vast.
We can do a 7 day trip 2 sharing for under £1000 all inc except evening meals, boat 4 day and a beach safari by 4 wheel drive this is excellent for non fishing partners as the hotels and diversity of things to do daily and see, are mind boggling. And only 6 hours flight to Banjul making it highly popular with members.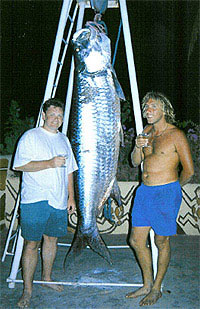 Target Species
Tarpon, Cassava, Lady Fish Cubera - Snapper, Stingray, Pompano, Black Fin Tuna, Captain fish, Barracuda, Sailfish, Dorado, Lemon shark, and 40 other species.
Fresh water upstream for Tiger Fish.
Best Time of Year
All Year round but April to October is best.
Tackle Required
Equipment is supplied fly gear is not 9 weight minimum 10 line for big fly's for Tarpon lure fishing and standard boat rods for ray's etc. 8 weights fly rod for Tiger fish.
Country
Gambia
Location
Banjul and George Town
Travel Arrangements And Accommodation.
From Gatwick to Banjul 6 hours all transfers Hotels and boats Breakfast you will need to pay a visa tax £5.00 on entry. Hotels are all well appointed well run and comfortable 5 star is truly top dollar 3 star is good bur 4 star is a compromise you can upgrade. Non- fishing partner £500.00 all hotels have swimming pools.
Cost of Holiday and Duration
Special World record Tarpon Trips in 5 star Accommodation £1800 Breakfast only.
General 7 days from £1000. 4 star hotel.