FISHING IN ICELAND
'Fire and Ice'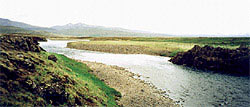 The land of Ice and fire Salmon fishing and the Trout Fishing in Iceland's hundreds of rivers form a large part of the Islands economy. It is taken very seriously indeed. Fisheries are tightly managed and regulated with maximum number of rods laid down, And rigid fishing hours 7-1 and 4-10 usually. Based on a variety of circumstances go to but flights are not included.
Target Species
Brown Trout, Atlantic salmon, Sea Trout
Best Time of Year
May - October
Tackle Required
14/15' ft double handed rods with 10 weight line, with sinkers to floaters a necessity, also some Sea-trout and the big Trout 10' will help on 7/8 weight line. Flies for local needs can be purchased at the lodges.
Country
Iceland
Location
Three Rivers the Breiddalsa, Eastern Iceland, The Minnivllelaekur, an hour from Reykjavik, The Granlaekur Also for season we have access to Throstur on the Tungulaekur river (4 rods averaging 50-100 Sea- Trout per day.
Travel Arrangements and Accommodation
Based on 6 days fishing / 6 nights on the rivers full board on rivers is only available for parties of four anglers only, all the usual things are included except alcoholic drinks, you stay in Reykjavik en-route to the breiddalsa (flights and transfers included) and on your way back from fishing so allow about £110.00 for meals accommodation each way, flights are from £430.00 Iceland air London or Glasgow.
Cost and Duration
The Breiddalsa River, 1st July-20th September. Salmon. £3290.00
The Minnivallelaekur 1st May – 30th September. Trophy Brown Trout. £1544.00
The Grenlaekur 17th June – 10th October. Big Sea Trout £2059.00
Variations 18th June –31st July £2059.00
Variation 2 August £2574.00
Variation 3 1st Sept – 18th Oct. £2986.00