FISHING IN INDIA
Mahseer Fishing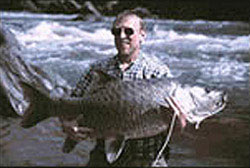 We are pleased to be able to offer Mahseer magic an opportunity to tackle the tiger of the mountain Rivers imagine a barbel but 50lb average weight and you have the most powerful adversary on any river in any location on the planet.
Our exclusive stretch is the private preserve of the Indian Royalty. A fully staffed camp with all facilities is situated alongside the river. Our guide Subhan (who you may remember from John Wilson's fishing trips to India) will ensure that you have the best possible chance to tackle one of these mountain monsters. The prince himself a fisherman has taken fish of 107lbs from this stretch and last year one of his guests had one of 103lbs and 86lbs on the same morning.
This is hard fishing and involves fishing fast water cutting through deep gorges and ravines. You can even fish the famous Mekadatu, the goats leap rock where the river funnels into a raging torrent, to land a fish here is truly an achievement.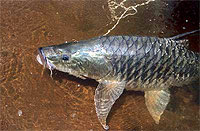 Our 14 – day trip take a maximum of 7 anglers plus 1 escort, places will be allocated on a first come first served basis. The season runs through January to march, there will be 5 trips only during this period.
There is normally at least one local guide for every 2 visitors.Suhban, the head guide (and some say river God) is in charge offering excelent advice, and even the most experienced anglers need advice and you will welcome his help and opinion he takes his job very seriously indeed. The two main sections are fished every day. The morning lasts from first light until midday and then from 4 o'clock until nightfall. The afternoons are just to hot to be out in.
Bait is generally Ragi Paste, freshwater crabs and livebaits are the main ones used, It is always worth spinning or plugging and we have caught fish on fly using large Tarpon flies.
You will be invited to a pre-trip get together and get a feel for what you will need.
Travel arrangements
Price includes return flight from the UK and you will be staying in Luxury style wood cabins and or quality tented accommodation.
Cost, Duration & Dates
16th January -1st February
30th January - 15th February
13th February 1st March
27th February - 15th March

Cost: £2350.00
Includes flights and is all inclusive except visas (£30.00 cost), drinks, and gratuities at your discretion.