FISHING IN MONGOLIA (2)
Upper River Beats - Taimen Fishing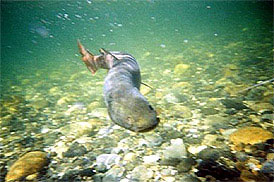 Here we have an exceptional adventure fishing destination: a land of rolling steppes, rugged mountains, verdant forests, inhabited by hardy hospitable nomads where time has stood still. The rivers are pristine clean and clear and teem with fish such as Grayling, Lenok Trout, and our main quarry the mighty Taimen, a salmonid that grows to enormous proportions. Mongolia's river might have been designed from the drawing board for Fly fishing tranquil fishing in stunning scenery, Just imagine catching that Taimen on a 'Dry fly' a big one though! You wade clear cliff fringed pools casting a mouse fly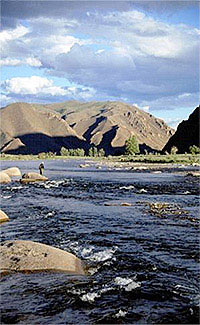 to a metre long –sighted Taimen- feeling the anticipation as you retrieve, then the surge as the fly is engulfed by an explosive take on the surface, and the cart wheeling runs that come next, and sheer relieve as you bring your quarry gently to the bank for photos and a swift release. Unlike salmon, Taimen don't migrate to sea, and as a long lived predator, in the aquatic food chain it is essential all fish are returned unharmed so that healthy Taimen populations are conserved for the future. We fish different pools and locations through the season to ensure the Taimen are not over-fished.
Target Species and General Information
Taimen
Lenok Trout
Grayling
Northern Pike.
Best Time of Year
15th May – 26th June
4th September – 2nd October trips are limited to 6 rods.
Tackle Required
General Fly rods 9'-10' 8-10 weight rods with a mix of lines and some serious mouse pattern surface lures are must big lures for big fish. We do not sell flies at the camp please ensure you stock well up if you contact Mr Glynn he will advise patterns that are to be taken.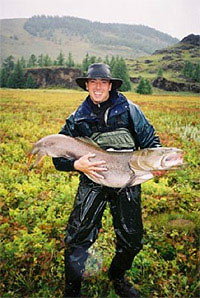 Country
Location
Northern Mongolia. In the Hovsgol region
Travel Arrangements and Accommodation
Cost of Holiday and Duration and dates of trips in
Fishing safari UK from £1650. or US$ 2800 this excludes flights.
Domestic flight $US 150.00
This is a 10 day trip to the camps at Hovsgol region of Northern Mongolia. All inclusive meals and beer some wine as well, the gers we will be staying in are warm and comfortable with wood burning stoves and comfortable cot style beds. Hotels included as B&B only.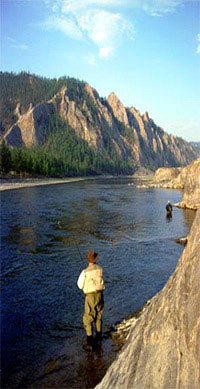 Sample Itinerary.
Day 1: Arrive in UB. Met at the airport by our representative. Transfer to comfortable Hotel.
Day 2 : Transfer to Airport , fly to Murun (11/2 hrs): depart by jeep to fishing trip Arrive camp, briefing and evening fishing.
Day 3 through 8: Taimen fishing : depending on current flight schedules drive back to Murun in the evening.
Day 9: Fly Murun to UB met at airport transfer to hotel . Half day sightseeing or souvenir shopping depending on the domestic flight schedule.
Day 10: transfer to airport return flights.
Dates for
Please ask for details.
A non refundable 30% deposit is required while booking we advise you have suitable holiday insurance while making the booking to cover unforeseen circumstances.