FISHING IN NEW ZEALAND
The Long island - Trout Fishing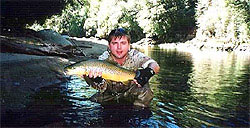 Two Islands varied landscapes rugged mountains a jealously guarded place of crystal clear water, Huge Browns and top site fishing hunting at the limits of your casting ability, a challenge to your ability and skills here we have the bowl of the world in stalking for your quarry. All usual things are included at both our lodges.
Target Species
Brown Trout, Rainbow Trout,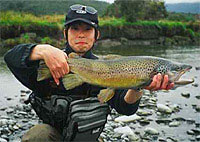 Best Time of Year
October – May
Tackle Required
9ft rods with 5/6/7 weight line, with sinkers to floaters a necessity. Wet or Dry fly and Nymph. Plenty of backing if you hook a 'lunker' you'll need it.
Country
New Zealand
Location
The North and South Islands of New Zealand
Travel Arrangements and Accommodation
UK – Wellington - Taupo. All our lodges offer 4/5 star facilities and the most superb food available. And Motueka Lodge was named one of the seven best places to stay in the World by the Sunday Times Newspaper, London.
Cost and Duration
Albion Lodge full board, all year round. 4 nights 3days fishing.
Nov-April £789.00 single supplement £98.00 non-fishing partner £ 239.00.
May – Oct £708.00 single supplement £80.00 non- fishing partner £ 226.00
November – April £ 853.00 single supplement £100.00 non fishing partner £275.00
Motueka River Lodge full board. 4 nights 3 days fishing
October –April - fishing £1361.00 non-fishing partner £737.00 single supplement is £280.00 full day guided walks from £35.00 per person.
Flights from UK - New Zealand start from £600.00, many including stopovers in other countries at extra cost your choice.