FISHING IN SCOTLAND
Salmon Fishing Course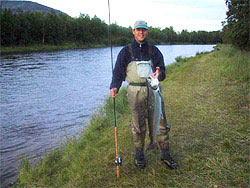 Salmon coaching and guiding, includes accommodation dinner and Breakfast and a wide selection of Tweed beats top or bottom of river (where Fish are). There are dependant on conditions excellent Lowland rivers with prodigious back end runs on the Rivers Nith, Cree, and Bladnoch to name three we can tailor a lower cost break due to reduced beat costs.
Species, Target Species Highlighted
Sea Trout, Salmon and Brown Trout
Best Time of Year
April through November end, depends on beats, and river we are fishing.
Tackle Required
Again bring two rods 14'ft- 16'ft 10/11 weight line's, in floating and Intermediate lines are needed with sink tips from fast to slow, half inch – to 2 inch flies we can supply flies on site, also we can supply equipment at no extra charge. And a 9'6"
Spinning rod with varied lures
Country
Scotland
Travel Arrangements And Accommodation.
Travel arrangements will be dictated by location and given at the time we will absorb any extra cost, which is built into the set price.
Cost of Holiday and Duration
Approximately £1100 this includes (Dinner Bed and Breakfast Packed lunch) at a well-known hotel, in the region.
We will be fishing perhaps a number of rivers after 2003 heat wave we need to be flexible.