FISHING IN ZAMBIA
Tiger Fishing Trip in Natural Beauty Eco Tour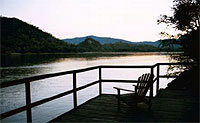 About Zambia
Zambia formerly known as Northern Rhodesia, lies on the central African Planes which is more than 11000 metres in elevation. The country extends to over 752615 sq km, The size of all Europe!! And has a lowest population density in Africa. Only supporting 10 million people. The capital is Lusaka.
Most visitors come to enjoy the country's magnificent National Parks and Wilderness areas. The country's many national parks teem with a wide variety of wildlife and are famous for the wide diversity of bird life. The mighty Zambezi is one of the planets longest rivers.
Environment


From the early days the area was known as for its vast herds of game. Zambia's 19 National parks and 34 game management areas (GMA's) comprise about 30% of the countries surface area. These areas are still untouched, and are administered by the Zambian Wildlife Authority (ZAWA) and none are fenced, allowing the free movement of wildlife between parks and adjacent GMA's.
The lodge is situated within the Rufunsa Game Management Area covering 374 sq km this GMA has been broadly zoned into settlement, conservation and tourism zones.

The nearby Lower Zambezi National Park 4092 sq km is considered to be Zambia's premier wildlife areas. The park varies from the Zambezi River's extensive floodplains, islands, sandbanks, and beautiful riparian forest on the river banks to open Jeki Plain fringed by Mopane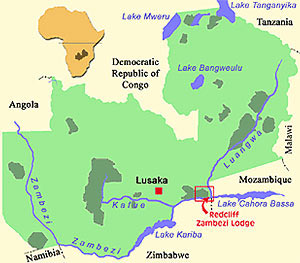 and Winterthorn park-like woodland. Beyond are the endless hills, covered in broad-leafed woodlands, towards the steep Zambezi Escarpment.
A wide variety of large mammals and birds can be seen in the park. The park's south eastern boundary is formed by the Mpata Gorge . On the opposite bank is Zimbabwe Mana Pools National Park see map below.
The lodge nestles under a variety of large shady trees, such as Jackalboab, Mahogany, and Winterthorn.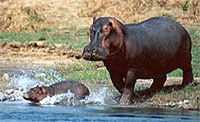 Large Animals
Large mammals around and near Redcliffe Lodge include Elephant, Buffalo, Kudu, Klipspringer, Impala, Waterbuck, Bushbuck, Zebra, Warthog, Bush-Pig, Lions, Leopards, Caracal, Serval, Spotted Hyena, and African wildcat is often seen in the area.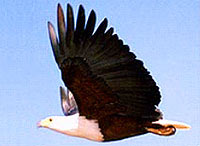 Bird Life
The river habitat and variety of vegetation types is home to an impressive, diverse bird life. More than 400 species have been identified in the vicinity of the lodge. Along the river bank White-fronted bee eaters, African Crane, Egyptian Geese, Three-banded and long toed plovers African skimmers, Kingfisher and migrant Rock Pratincoles are present as well.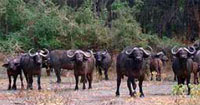 Pel's Fishing owl are commonly seen, and in the surrounding woodland areas Black and Fantailed flycatchers, Chinspot, Woodhoopoe, Narina Trogon, Heuglin's Robin, and Sombre Bulbul, Eagles include Fish, Martial, Whalbergs, White faced owls, Spotted eagle owls etc; the list is endless.
The Lodge
Environmental sensitivity, along with an appreciation for the privacy of our guests, were considered during the design of Redcliffe, The central entertainment area and lounge are therefore entirely separate from the tented chalets. Chalets are conveniently spaced under the large shady trees. The lodge property extends 1.5 km of river frontage and some 100 ha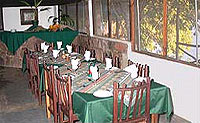 The lodge was originally launched as a tiger fishing being the focus by the time the lodge was completed in 1999, it was obvious that the region had much more to offer. Both because of its remoteness as well as its proximity to a wealth of cultural history and wildlife sites.
We can accommodate up to 16 guests. Four roofed chalets (each with two beds) and family chalet's (each with 4 beds) furnished with beautiful indigenous teak furniture.
You will enjoy stunning views and abundant bird life from the privacy of your chalet.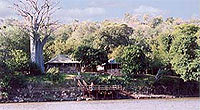 The indigenous vegetation forms the 'garden' between chalets, with the huge trees providing a shady canopy. The camp is built safely above the high flood level, and a swimming pool is part of the comfortable surroundings.
Chalets are spacious and airy, designed to combat the heat and humidity even during the hottest months. Each chalet has large mosquito nets and en-suite facilities, including shower ,toilet, hot and cold running water. Solar panels are used to charge 12 volt batteries for major lighting needs. While pathways and chalets are illuminated by paraffin lanterns, providing a soft rustic atmosphere.
The lodge is equipped with radio communications in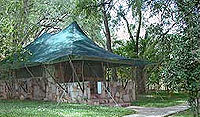 the event of an emergency communication via radio link , is also available on request.
Meals include breakfast, lunch, and dinner, with the three-course main meal served in the evening. Meal times are flexible to suit guest requirements and activities.
Activities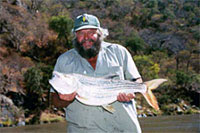 Angling
The lodge is best known for its superb tiger fishing, with tiger fish rated as the toughest fighters pound for pound of any species hence why they are highly regarded our fishing licence covers all guests.
strangely some of the best catches are made close to 'home' off the jetty just below the lodge itself, other species Cornish Jack, Bottlenose, Silver Catfish, Bream and Vundu- over 30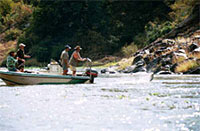 species in all. Fly fishing for Zambezi Tiger-fish has become an increasingly popular activity. Tiger-fish of 4-7kg are commonly caught . it is no wonder that the Lower Zambezi is regarded as a world classed tiger destination.
We support a catch and release policy but concessions are made for special fish dinners.
For The Eco Partner
One day river excursions including angling
Travel upstream on the Zambezi River into the stunning Mpata Gorge, accompanied by our experienced guide, the magnificent surroundings are ideal for fishing, photography, and game viewing. Elephant, Hippo, Crocodile, antelope and numerous birds will give you a memory to treasure.
Bird Watching
A paradise for the ornithologist 400 plus species in a tight area rare species such as Tiata Falcon, Angola Pitta, and Pel's Fishing Owl this is bird heaven.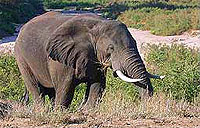 Game Viewing General
Day trips into lower Zambezi National Park exposing visitors to four of Africa's big five. Lion, Elephant, Buffalo, Leopard. Also large herds of herbivores Zebra, Antelope and many other species will be seen.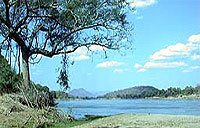 Two Day Game Trail Walk
This is an exciting tour to the Lower Zambezi National Park's flood plains we visit by boat via the Mapata Gorge. Game walks are under the guidance of our guide and a Zambian Wildlife Authority game scout, are undertaken during the afternoon of Day 1 and morning of day 2 spotting many species of wildlife in this remote area.
Other Tours
One-Day Slave Trail 1 day encompasses a river trip
Cultural Tours 1 day visit a village where you can see it working unspoilt by tourism
Customised Day Trails 1-2 day.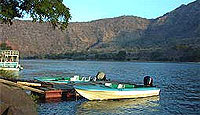 Boats
Two pontoon boats and four speedboats are available for your use. Guests are always accompanied by an experienced guide on all water excursions
Sunset on the water is a magnificent experience along with all the sounds of the wild, which only Africa can provide
Best times to visit
Tiger-fishing : July –November weather warm to hot and dry. water is clear
Bird-watching : November to March. hot with occasional thundershowers lasting only about 1 –2 hours only, usually at night. Various migrating birds from the Northern hemisphere settle to breed.
Game viewing/walks : April to November, dry, warm days with cold nights.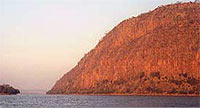 Location
The Lodge is on the northern bank of the Zambezi River in the Zambezi Valley. The lodge is up river from the lake Cahora Bassa in Mozambique and between the village of Luangwa and the breathtaking Mpata Gorge, which lies further west.
Travel Arrangements And Accommodation.
Fly from UK to Johannesburg A charter aircraft flight to Lusaka takes 3 hours The flight to Luangwa Boma airfield can also be reached with one of the scheduled common flights between Johannesburg and Lusaka, We can arrange this for you and all connections and Travel Insurance if required or you can be collected at Lusaka and driven the 325 Kilometres which takes 4 hours mainly tarmac roads and last leg is on a gravel track good one for 96kilometres along the Laneway River. Lastly a 40-minute Boat trip completes the journey from Luanga Boma –to the lodge.
The Accommodation is in spacious chalets sheltered beneath trees by the riverbank, comfortably appointed. The lodge complex offers an entertainment area with Lounge, dining, room, and bar and a well-appointed veranda. Overlooking the mighty Zambezi.
Cost of Holiday and Duration
£2000 per person fishing non-fishers P.O.A. (2 sharing) International flights from £650.00 to Johannesburg are readily available with SAA.