FISHING IN ZIMBABWE

Tiger Fishing at Ngwenya Lodge on the Mighty Zambezi River

A new destination totally committed to catching the ferocious tiger fish arguably recognised as the hardest fighting fresh water fish in the world.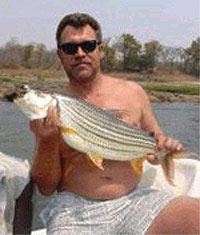 It starts with a ferocious take your rod nearly ripped out of your hands that split second as time stands still and your reel starts to scream as line is ripped of at bonefish speed.
If this is the adrenalin rush you need then Ngwenya Lodge is the place to be
The wildlife in and around the river and lodge area are unparalleled and you will find over 300 bird species and some of our larger mammal specious can be seen daily while fishing.
Description of what is available and
on offer at the lodge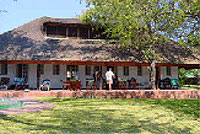 Ngwenya Lodge has four luxuriously furnished large bedrooms all with bathroom en-suite. There are two-bed rooms and two, four four bedrooms enabling us to cater for 12 persons sharing or should you be inclined to bring your better half along , four couples, all rooms are fitted with ceiling fans.
A large thatched Lapa is the dining room area with a fully stocked bar, tastefully furnished in Rhodesian teak All meals are served in the lapa with a spectacular view over the Zambesi River.
There is a swimming pool for guests.
We have 4 fishing boats all with 40hp motors. A professional guide skippers each boat. And you can fish either with spinner or fly. Bait can be used if you wish. All boats are fitted with cooler box with mixed beverages and foods.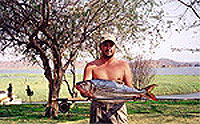 Laundry service is available.
Although the main focus of the lodge is fishing we also arrange for non-and fishers if required day trips to Hwange National Park to view the "Big Five mammals" and Victotia Falls, one of the seven natural wonders of the planet, white water rafting & Bungy jumping form other entertainment. (These trips are extra cost ask for details).
It is recommended you start a anti-malaria course before your departure Please contact your loacal doctor or Pharmacist to obtain anti-malaria tablets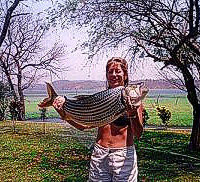 Basic Itinerary for your visit
You or your party will fly out from Johannesburg International Airport to Victoria Falls.
On arrival you will be met by Alan and Sharen Kendal and transported tp the lodge at Msuna via car. It is a short journey 1.5 hours. We supply drinks for the trip
On arrival we will settle you into your respective rooms and a light lunch will be served at the poolside lapa.
Once you have tackled up you can go out for an afternoons fishing.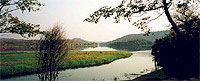 On returning from the fishing trip Sundowners are served in the bar.
You can freshen up before the best dinner you will undertake to complete in any lodge and food is of the highest standard and a nightcap or three at the bar before retiring for the evening, Alan will be on hand and the full itinerary for the week can be discussed with all guests.
The lodge is family owned and run and a personal service is guaranteed to ensure a truly unforgettable African experience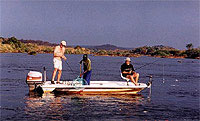 Your Team will be
Charles and Dawn Halsted.
Alan and Sharen Kendal
Ian and Kim Kendal
Fees and Costs
Cost per person is £ Sterling for a seven night stay The price includes the flight from Johanesburg International airport to Victoria Falls return flight all transfers to and from Victoria falls airport. Accommodation all meals all boat and petrol usage, bait/chum guiding fees and all bar services
The bottom line is we have no hidden costs, one price for everything accept your flight from your country destination to Johannesburg Airport.
The season is short so please see next page for availability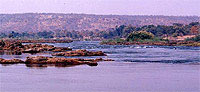 North Wales Fly Fishing School Holidays
You can book by completing the application form at the end of the information documents and either fax post or return email to us and we will contact you by return.
Fishing Equipment Required
I will insert 3 to 4 pictures Allan if you can email them to me I will convert?
Fly Rod a fast sink &floating lines, are recommended but take a range of lines
8.9 weight rods and again throw a 5/6 weight in with the main weapon.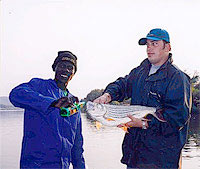 Quality fly reel don't have anything less than a disc style drag for smooth line evacuation at speed? As it is possible you will hit a vundhu a 60lb (Barbel like Fish)
And if you have caught a Barbel you will know what we mean?
Tippets and leaders of over 6-20pounds are recommended but stick to 12lb average
Bring spare spools of quality monofilament.
If tying your own flies bring saltwater hooks in sizes 1/0.2/0. & 3/0 Deceiver patterns with plenty of flash in red blue white chartreuse and plenty of black combination of al of these will do the trick. Silver Mylar tubing is ideal to imitate a Kapenta the staple diet of the Tiger fish. Weighted and non-weighted flies for differing conditions.
Hook sharpener is a must?
Nylon coated & multi-strand wire trace is no good? You must use 28lb single strand wire trace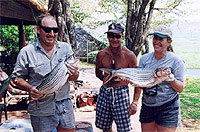 Conventional Fishing Equipment
Bass Rods, and normal spinning rods are useful with fixed spool style reels or small baitcaster, and multipliers with 15lb –20lb line will do the job when spinning or trolling. Another technique that we find effective is called "Dober Dober"in which case you would need an 8-9weight fly fishing rod fitted with an open cast reel or bait caster loaded with 10lb line.
Hooks as above
Small black mustard swivels the smaller the better. Must be black anything else will attract tigers and will result in you being snapped off
Mepps spinners in 3,4,&5 for Tigerfish. The sliver blade and the black blade with red or silver reflectors constantly produce fish bring a minimum of 12-15 mepps per person
Nylon as per above and single strand wire 28 pound please.
Location
Within 1 hour of Victoria Falls Airport.
Travel Arrangements and Accommodation
UK to Johannesburg Airport- then Victoria falls Airport, on arrival you will be met by Alan and Sharon Kendal and transported to the lodge at Msuna via air-conditioned car, it is a short journey of 1.40 hours, you will receive refreshments en-route.
On arrival you will be settled into your respective rooms and a light lunch served at the poolside lapa.
Cost of Holiday and Duration
Cost for 7 days is £2200 includes all flights all transfers from Victoria Falls airport all boats and fuel bait meals and accommodation and guiding.