SALMON FISHING COURSE
Our Salmon fishing course is designed for both experienced and starters who have basic fly fishing experience. We have to run a flexible location for this course so it may not be in Wales it will be where the Salmon are, costs can vary due to this, but in September – October all courses will be held on the River Dee or Mawddach in North Wales. ( client or group needs before the individuals).
The course is again designed to be flexible and the content is as follows.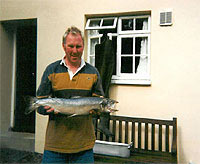 More Salmon
Day 1 (9am- 4.30pm)
» Illustrated talk on the Salmons life cycle identification, and behavioural patterns
» Casting demo and tuition with analysis of your casting faults ironed out.
» Tackling up and selection of flies, temperature and logic behind this
» Casting tuition with single-handed and double-handed rods.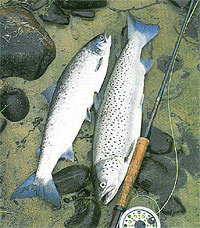 Which is the Sea Trout ?
9pm
» evening meeting at river bank 1.30 hours before dusk, to fish into dark, due increased chance of a Salmon at this time.
Day 2
6am
We meet on riverbank to fish first 2 hours after dawn-increased chance of a fish at this time also.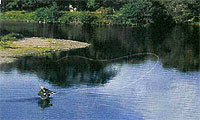 Note the Loop
10am
» Advanced casting Roll, single and double Spey casts, wind directions and safety. Sunk and floating lines
» Video analysis of Clients casting techniques and individual coaching.
» On the river and safety when wading. Backing up.
» Walking river looking for daytime lies and early/late lies for Salmon.
» Choosing the correct fly. For river conditions time of year.
5pm
» You now can fish the river as you wish remembering the key hours to maximise your chances.
Day 3
» Meet at agreed location river may have changed to Lower Dee, Mid Dee or if require at extra cost a specific location on the River Mawddach taking advantage of fish entering on the tidal flood.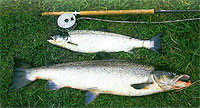 10lb
26lb
» Tuition & demo on the riverbank on snake roll and power lift. Sunk and floating lines.
5pm
» close and summary
» You may fish until dusk on the beat prior to departing.
Salmon Course fees
1 day: £185.
2 days: £285.
3 days: £350.
Inclusive of course handbook, fishing permits for rivers, lunch and other refreshments and loan of tackle if required.
Discount given for group bookings.
Please see our booking page for details of how to reserve your place or call us on 0702 111 4746 to discuss any special requirements.